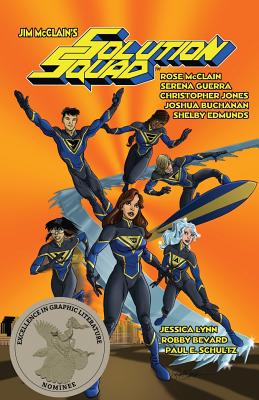 Jim McClain's Solution Squad
Paperback

* Individual store prices may vary.
Description
Finalist, Best in Middle Grade Books, 2018 Excellence in Graphic Literature Awards

When a group of six math-themed teen superheroes takes flight in their amazing Coordinate Plane on a new mission, pure adventure awaits Using their incredible wits and special powers to solve deadly puzzles and defeat their enemies, Jim McClain's Solution Squad helps you learn math without even trying From the temperature-changing hothead Absolutia to the newest member of the team, Radical, each member of the Squad teaches you and reminds you of math concepts with every use of their powers and mention of their names

Facing villains like The Poser, The Reverse-Engineer, and the Confectioneer, whose powers come from chemicals based on candy, the Solution Squad never fails to deliver excitement and heartfelt emotion as they work together to solve problems. This 144-page graphic novel was created, written and designed by award-winning middle school math teacher Jim McClain, recipient of the 2014 Lilly Endowment Teacher Creativity Fellowship and 2018 Pop Culture Educator of the Year, Middle Level.

The book features illustration by Rose McClain (Scoundrels), Serena Guerra (Mice Templar), Paul E. Schultz (Poe & the Mysteriads), Jessica Lynn (Bones), and Christopher Jones (Young Justice). Also contributing to the artwork are Eisner winners George P rez, Gene Ha, and Janet K. Lee, as well as Inkwell Award winner Josef Rubinstein, and X-Men Evolution character designer Steven E. Gordon.
Solution Squad LLC, 9780998942506, 146pp.
Publication Date: June 5, 2017