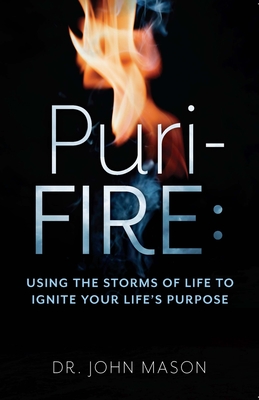 Puri-Fire
Using the Storms of Life to Ignite Your Life's Purpose
Paperback

* Individual store prices may vary.
Description
WHEN TROUBLES AND FAILURE COME, HOW WILL YOU HOLD UP?
Make no mistake, in your life you will face disappointment, difficulty, failure, heartache and trouble— more than once. We all do. Why is it that the fires of life seem to refine some people and consume others? The answer has much to do with how well you have developed certain key traits vital to living a successful life. This book will help you do just that. Inside, you will discover how to identify, strengthen and activate 12 essential character trails that can make the difference between surviving and thriving, from living average or awesome. These key traits are not new, in fact much of what you will experience in this book was adapted from an out-of-print book written several decades ago by Harry Emerson Fosdick. But the timeless truths initially penned in the early 20th century and now brought to life in this book will be groundbreaking for you. Are you ready to embrace a better version of you? This book will help you with:
• Unleashing the mindset you need to move forward
• Discovering your untapped potential
• Developing resilience—the X-factor that all leaders need to succeed
THIS BOOK IS FOR THE PERSON WHO SIMPLY WANTS TO GROW AND GET BETTER!
HigherLife Publishing, 9780998977379, 126pp.
Publication Date: August 28, 2018
About the Author
Dr. John Mason has been creatively leading teams within higher education
institutions for over 25 years. His passion, fire, and energy rests in the
work he does "unpacking" the hidden abilities and dreams of those he
comes into contact with.
Using Biblical principles, Mason holds classes, workshops, and one on
one sessions to coach, train, and mentor men and women who struggle
or may have failed miserably in the trials of life.
Dr. Mason lives in Douglasville, GA, a suburb of Atlanta. He is guided by a principle spoken by
Dr. Martin Luther King: " We must remember that intelligence is not enough. Intelligence plus
character – that is the true goal of education."