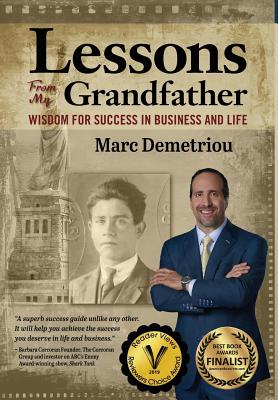 Lessons From My Grandfather (Hardcover)
Wisdom for Success in Business and Life
Highpoint Life, 9780998984001, 178pp.
Publication Date: January 16, 2018
* Individual store prices may vary.
Description
WINNER Non-Fiction, 2019 Reviewers Choice Award, Reader Views
WINNER Best "How-To" Book, 2018 Los Angeles Book Festival
WINNER Best "How-To" Book, 2018 San Francisco Book Festival
FINALIST Business/Careers, 2018 Best Book Awards, American Book Fest
You are never too young or too old to make your dreams come true. Lessons From My Grandfather shows how you can achieve success and fulfillment in life by following 15 timeless principles handed down by the Marc Demetriou's grandfather, Haralambos Georgiou Pistis, --or just "Charlie."
An Ellis Island immigrant, Charlie came to a new country at age 16 with nothing but a bag full of dreams, courage, wit, and the desire to succeed -- and he transformed his world. Through his steadfast willingness to work hard, and a determination to control life rather than allowing it to control him, Charlie succeeded on his own terms, finding happiness and financial security.
In these pages, Demetriou tells Charlie's inspirational story, then applies his lessons to today. The result provides both clarity and vision for helping you recognize your unique talents, along with lifelong principles that will allow you to identify and reach your goals in life and business. This book is an essential blueprint that you can use for today and tomorrow. As Demetriou likes to call it, "success made simple."
Marc Demetriou is a top-rated speaker who has appeared at the Mastermind Summit along with world-renowned motivational speaker Tony Robbins and Barbara Corcoran from ABC Television's Shark Tank. As an authority on real estate and finance, Demetriou has been quoted in articles in The New York Times, The Huffington Post, Reuters, the Associated Press, and many other local and national publications and media outlets. Additionally, he was co-host on WVNJ's popular The Real Estate and Money Show. Demetriou also is the proud father of three daughters.