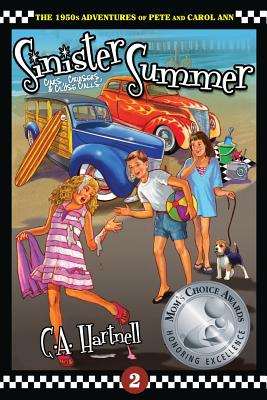 Sinister Summer (Paperback)
Cars, Cruisers, and Close Calls
Hartnell House Publishing, LLC / Hawkprints, 9780999050224, 162pp.
Publication Date: March 20, 2018
Other Editions of This Title:
Paperback (8/1/2012)
* Individual store prices may vary.
Description
Surf's up Make the summer scene for friendship, fun, adventure, and mystery that fill the pages of Sinister Summer: Cars, Cruisers, and Close Calls, the second volume in a four book series, The 1950s Adventures of Pete and Carol Ann. Join two eleven-year-old, All-American, Southern California kids, Pete and Carol Ann, for patriotic fun and trips around the Southland. Follow them as they set off fireworks on July Fourth, learn to surf at Huntington Beach, ride horses in Lytle Creek Canyon, visit Tarzan's jungle at the Los Angeles Arboretum, and have a blast at a backyard Hawaiian luau. Near their hometown of El Monte, California, teenagers cruise "flat out" with lots of horse power under the hoods of their "hopped-up," flame-painted hot rods. Pete and Carol Ann cruise along with them on Route 66 during July of 1955 to Los Angeles, Hollywood, and Van Nuys. Can they avoid Butch's midnight-blue Merc? Can they discover who's starting fires all over town? Both friends, and a beagle puppy, search for safety and peace in their 1950s world of bullies, crime, and close calls that turn their summer vacation into an outrageous, risky adventure where danger lurks both on and off of America's roadways. Like wow Ages eight and up will enjoy this fast-paced, historical-fiction chapter book that shares the excitement of a sensational summer.