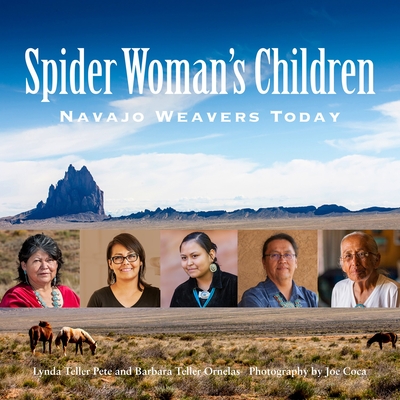 Spider Woman's Children
Navajo Weavers Today
Paperback

* Individual store prices may vary.
Description
Navajo rugs set the gold standard for handwoven textiles in the U.S. But what about the people who create these treasures? Spider Woman's Children is the inside story, told by two women who are both deeply embedded in their own culture and considered among the very most skillful and artistic of Navajo weavers today. Barbara Teller Ornelas and Lynda Teller Pete are fifth-generation weavers who grew up at the fabled Two Grey Hills trading post. Their family and clan connections give them rare insight, as this volume takes readers into traditional hogans, remote trading posts, reservation housing neighborhoods, and urban apartments to meet weavers who follow the paths of their ancestors, who innovate with new designs and techniques, and who uphold time-honored standards of excellence. Throughout the text are beautifully depicted examples of the finest, most mindful weaving this rich tradition has to offer.
Praise For Spider Woman's Children: Navajo Weavers Today…
"At last, an exquisite book conceived and written by expert Diné weavers who explore 'the breadth and complexity of who we are!' The authors' richly detailed profiles honor their elders and Spider Woman and validate a vital future for Navajo weaving." —Ann Lane Hedland, retired director, The Gloria F. Ross Center for Tapestry Studies, Arizona State Museum, Tucson

"Spider Woman's Children is a thoughtful and heartfelt book that will serve to educate and excite people about the ongoing tradition of Navajo weaving, and no one is more qualified to write on the subject than Barbara and Lynda." —David M. Roch, Director and CEO, Heard Museum

"If you like Navajo textiles, you'll love this book. It puts human faces and stories behind a wonderfully complex art form in which the artists were kept anonymous for far too long." —Steve Nash PhD, Department Chair and Director of Archaeology, Denver Museum of Science and Nature

"This is the book I have been wishing someone would write. Interviews with weavers and their families form a moving statement of the place that weaving has at the heart of those families." —Ann Marshall PhD, Director of Research, Heard Museum

"Readers will find they have taken a journey across and through the broad landscapes of Navajo lands, stopping along the way to meet family and remember those who have passed but continue through their remembered lives to teach about weaving and its extraordinary powers." —Bruce Bernstein PhD, Executive Director, Ralph T. Coe Center for the Arts, Santa Fe, New Mexico
 

"The authors recognize that all weavers have a story to tell about their weaving, and every weaving tells a story about its creator. It is these stories, told by multiple generations that are at the heart of this lively and richly-illustrated volume and make it a fascinating read." —Helene Woodhams, Librarian, Pima County Public Libraries
Thrums Books, 9780999051757, 144pp.
Publication Date: September 7, 2018
About the Author
Barbara Teller Ornelas and Lynda Teller Pete are fifth generation, and widely acclaimed, Navajo weavers and sisters. Together they teach Navajo weaving workshops at museums, galleries, and guilds. Barbara is internationally renowned for her fine tapestry weaving. She has been artist in Residence at the Heard Museum and the British Museum in London and has served as an ambassador for Navajo weaving, culture, and tradition in arts exchange programs in Peru, England, Uzbekistan, and beyond. Lynda won her first prize in weaving at age 12, and continued weaving while she received her degree in Criminal Justice from Arizona State University. She has been a weaver full-time since 2010.
or
Not Currently Available for Direct Purchase