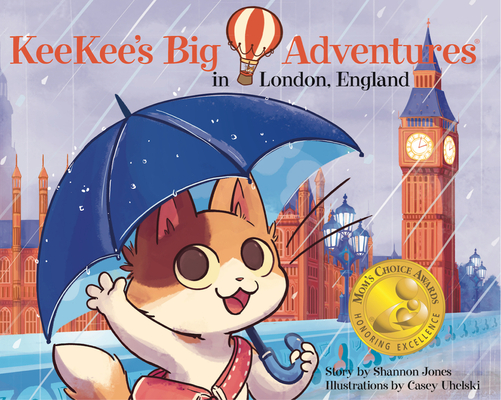 KeeKee's Big Adventures in London, England (Hardcover)
Calithumpian Press, 9780999066164, 40pp.
Publication Date: November 19, 2019
* Individual store prices may vary.
Description
Travel lovers buckle up and get ready to explore in KeeKee's Big Adventures in London, the 5th picture book in the award-winning KeeKee's Big Adventures series. 

Join KeeKee, the globe-trotting calico kitty, on her latest brilliant adventures in London. Along with her friend Willamb Sheepspeare, she'll whisk readers through the majesty of England's capital city—from Big Ben to Buckingham Palace to a proper English tea. (Pass the scones, please!)

Explorers big and small will have a jolly good time trying out fun British expressions, peeking into royal culture, and navigating London's beautiful streets on a double-decker bus.
 
In the back of this brightly illustrated book, you'll find a kid-friendly guide map of London, a glossary of British terms, and more details on KeeKee's favorite places.

It's the perfect getaway for kids and families who love travel, adventure and exploring the world around them.

Keep your eyes peeled for KeeKee's colorful hot air balloon—KeeKee's Big Adventures in London lands November 19.
About the Author
Shannon Jones is the author of the award-winning KeeKee's Big Adventures picture book series. Her love of travel began at a young age. It opened her eyes and ears to the world. Living in Amsterdam, the Netherlands, the idea for KeeKee's Big Adventures was born. After twenty years in the marketing field, Shannon is introducing children to some of her favorite places through KeeKee. Lisa has worked in the publishing industry for over 25 years. As an editor and consultant she's worked with writers in a broad variety of genres, as well as with such firms as Penguin, HarperCollins, Knopf, and Norton. A Harvard graduate, she's also the author eight books. Casey Uhelski graduated with honors from the Savannah College of Art and Design with a Bachelor of Fine Arts degree in illustration. As a little girl, she loved books, doodling, and daydreaming, and has happily gone on to pursue a career as a children's-book illustrator.
Praise For KeeKee's Big Adventures in London, England…
"Shannon Jones's picture book KeeKee's Big Adventures in London, England provides a colorful and realistic depiction of London as KeeKee the calico kitty explores it and learns all about it. KeeKee travels the world in a hot air balloon, having adventures and learning about different cultures. This story follows her to London, where she gets off at the Globe Theatre and meets Will, a sheep version of William Shakespeare. Will takes her around to all the places she wants to visit. They ride a double-decker bus, visit 'pickle dilly,' learn that Big Ben is the bell inside Elizabeth Tower, and have tea with the queen. KeeKee then leaves for her next adventure, but not without including a guide and glossary to explain all things London. Explanatory in nature, KeeKee's adventures leave a true impression of what it's like to visit London. KeeKee's misconceptions and quirky names for places allow for real-time lessons from Will that are fun and descriptive. The included glossary lets KeeKee explore without stopping to explain the language—sans funny names for food, which she jokes about lovingly. KeeKee is a great tourist, eager to learn and kind to those she meets. She makes light of being around famous people like Shakespeare and the queen, and her curiosity and openness to making friends are easy to relate to. She's unafraid of being wrong and takes time for the important things while traveling, even stopping to smell the roses in the queen's garden. The font size is small, and text is sparse on the page, but a lot is conveyed in few words. Full-spread illustrations make up for things unsaid. The story is fast and easy to comprehend. It is without conflict to complement its teaching style. Casey Uhelski's stunning illustrations bring London to life. They are colorful and consistent and add a dreamlike quality to the city, making it appealing to visit. True to life, KeeKee and Will navigate rain in the city, take the Underground, and even show up on a map through Hyde Park. This extra attention to detail makes the setting realistic and enticing all at once. KeeKee's Big Adventures in London, England is part travel guide, part exploration, and all about making friends and being open to learning about new places—an adventure not to be missed." — Rebecca Monterusso, Foreword Reviews
"A peripatetic calico cat visits London in this fifth picture book in a series. KeeKee is a feline who travels the world by balloon, seeing such famous cities as Paris, Rome, and now, London. The cat starts out with Shakespeare's Globe Theatre, where Will, a ram, makes her feel welcome. He offers to show her around, and they travel by double-decker bus and the Underground, visiting such tourist landmarks as Piccadilly Circus, and the ravens at the Tower of London. After a pub lunch, they watch the changing of the Queen's Horse Guard, and are invited to tea by the corgi queen. KeeKee and Will look around the palace, then have a delicious tea. A London guide, glossary, and maps are included, plus links for KeeKee fans. Jones (KeeKee's Big Adventures in Athens, Greece, 2014, etc.) provides a good beginner's introduction to London that will be especially helpful for children visiting for the first time and needing orientation regarding lingo, food, and popular sights. Adults will enjoy in-jokes, such as the queen being represented by a corgi, the real-life queen's favorite canine. Returning illustrator Uhelski's illustrations are a huge plus, doing much to set the stage by depicting detailed landmarks and capturing KeeKee's friendly personality. A charming, beautifully illustrated guide to the English capital for kids."—Kirkus Reviews