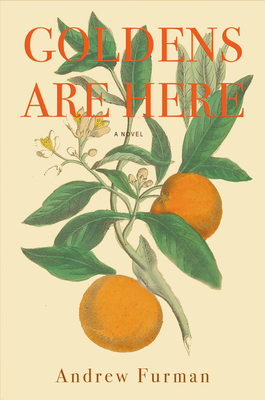 Goldens Are Here (Paperback)
Green Writers Press, 9780999076620, 364pp.
Publication Date: April 20, 2018
* Individual store prices may vary.
Description
It's 1961, and everything is changing in Florida. Jim Crow strains to maintain its hold, the Cold War escalates, the US space program hits its stride, and the Jewish Goldens—determined to begin a new pastoral life along Florida's central east coast—are just trying to hold on to their small orange grove near the excitement of Cape Canaveral. In Goldens Are Here, Andrew Furman imagines with great empathy the individual members of the Golden family, their unique struggles and dreams, during a single tumultuous citrus season. Inspired by true events surrounding a historic Florida citrus season and the civil rights struggle, Goldens Are Here offers a glimpse of the sea changes occurring in Florida and the nation in the 1960s through the prism of one family's negotiations for the land, with their neighbors, and with each other.
About the Author
Andrew Furman teaches in the MFA program in Creative Writing at Florida Atlantic University. He is the author, most recently, of the memoir Bitten: My Unexpected Love Affair with Florida (2014), which was named a Finalist for the ASLE Environmental Book Award. His fiction and creative nonfiction frequently engages with the Florida outdoors, but he has also written about basketball, lighthouses, swimming, and cast-iron cookware. His essays and stories have appeared in such publications as the Oxford American, The Southern Review, Ecotone, Terrain.org, and The Florida Review.