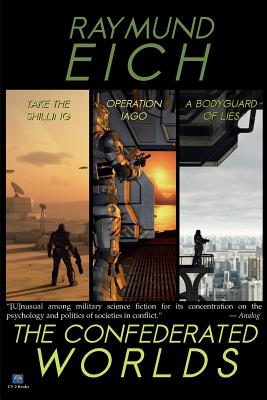 The Confederated Worlds
[Take the Shilling, Operation Iago, and A Bodyguard of Lies]
Paperback

* Individual store prices may vary.
Description
A thousand years from now, while Earth sleeps in virtual reality, three polities-the Confederated Worlds, the Unity, and the Progressive Republic-strive to connect the scattered, terraformed worlds of humankind by artificial wormholes. When they meet, they clash, in a decades-long struggle of arms that will embroil every human world, in which dedication to duty liberates worlds-and oneself.
The first three novels in The Confederated Worlds series are now available in one volume.
TAKE THE SHILLING
The Confederated Worlds implanted in his brain the skills to make him a soldier. Tomas had to learn for himself how to survive interstellar war.
OPERATION IAGO
The Confederated Worlds lost the war. Can Lt. Tomas Neumann win the peace against elusive, deceptive foes out to turn the Confederated Worlds against itself?
A BODYGUARD OF LIES
Assigned to the halls of power, only Capt. Tomas Neumann can save the Confederated Worlds from the ultimate treachery.
CV-2 Books, 9780999101605, 736pp.
Publication Date: June 21, 2017
About the Author
Raymund Eich files patent applications, earned a Ph.D., won a national quiz bowl championship, writes science fiction and fantasy, and affirmed Robert Heinlein's dictum that specialization is for insects. In a typical day, he talks with university biology and science communication faculty, silicon chip designers, patent attorneys, epileptologists, and rocket scientists. Hundreds of papers cite his graduate research on the reactions of nitric oxide with heme proteins. He lives in Houston with his wife, son, and daughter. Learn more at www.raymundeich.com.