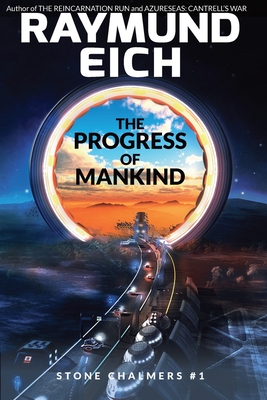 The Progress of Mankind
Paperback

* Individual store prices may vary.
Description
" A] thriller-style science fiction tale that's a quick and fun read.... A good start to a promising series." - Sfreader.com
Earth barely survived the 21st Century.
To maintain order in the 22nd, the UN forces undesirables through artificial wormholes onto colony planets. Everyone benefits... except the planets' original colonists.
Now, the newly rediscovered colony of New Moravia knows the UN's plan and fights back.
UN operative Stone Chalmers--spy, killer, seducer--travels to New Moravia. Armed with a small arsenal and a cover story hypnotically implanted in his mind, can Stone defeat the rebel colonists before tens of thousands die?
CV-2 Books, 9780999101612, 208pp.
Publication Date: January 24, 2018
About the Author
Raymund Eich files patent applications, earned a Ph.D., won a national quiz bowl championship, writes science fiction, and affirms Robert Heinlein's dictum that specialization is for insects. In a typical day, he may talk with biochemists, chip designers, patent attorneys, and rocket scientists. Hundreds of papers cite his graduate research on the reactions of nitric oxide with heme proteins. His novels include the first three volumes in the Confederated Worlds series, TAKE THE SHILLING, OPERATION IAGO, and A BODYGUARD OF LIES and evolutionary psychology hard science fiction novel NEW CALIFORNIA. He lives in Houston with his wife, son, and daughter. Learn more at www.raymundeich.com.