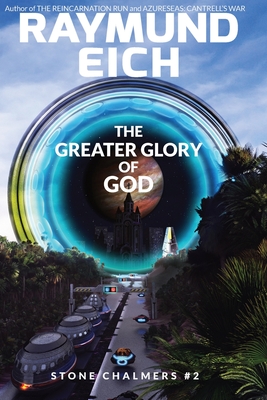 The Greater Glory of God
Paperback

* Individual store prices may vary.
Description
Earth barely survived the 21st Century.
Thousands fled the chaos on rogue warpdrive ships to settle colony planets. When Earth reunified in the 22nd, its fleets rediscovered the colonies and hunted down the warpdrive ships.
Every warpdrive ship but one.
Undercover on Trinity, Stone and his unwanted partner must earn the trust of religious fanatics who will stop at nothing to find the last warpdrive ship. A ship that, if sent on a suicide mission, could devastate Earth.
A ship, but who will fly it?
CV-2 Books, 9780999101629, 218pp.
Publication Date: April 30, 2018
About the Author
Raymund Eich files patent applications, earned a Ph.D., won a national quiz bowl championship, writes science fiction, and affirms Robert Heinlein's dictum that specialization is for insects. In a typical day, he may talk with biochemists, chip designers, patent attorneys, and rocket scientists. Hundreds of papers cite his graduate research on the reactions of nitric oxide with heme proteins. His novels include THE PROGRESS OF MANKIND (Stone Chalmers #1), the Confederated Worlds series-TAKE THE SHILLING, OPERATION IAGO, and A BODYGUARD OF LIES-and evolutionary psychology hard science fiction novel NEW CALIFORNIA. He lives in Houston with his wife, son, and daughter. Learn more at www.raymundeich.com.