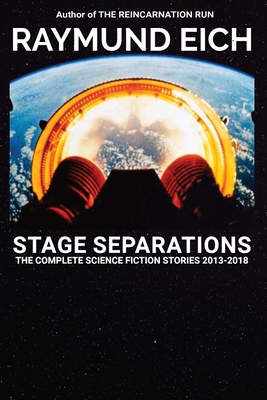 Stage Separations
The Complete Science Fiction Stories 2013-2018
Paperback

* Individual store prices may vary.
Description
In these pages, you can...
...race against time to solve mysteries hidden in a planet's vast desert-and in a woman's heart
...learn the true story of a president's assassination
...journey 14,000 miles to a high-tech fountain of youth
...win or go "home"-to an Earth you've never seen
and explore six other worlds created by a distinctive voice in twenty-first century science fiction.
==========
Want to learn more about science fiction author Raymund Eich? Here's a Q&A to tell you more about this distinctive voice in new science fiction.
First off: Raymund Eich. Am I spelling it correctly? And how do you pronounce it?
That's the correct spelling. My immigrant parents split the difference between the Anglo-French Raymond and the German Raimund.
My last name is pronounced with a long-i vowel sound, like both syllables in Einstein. The preferred consonant sound is a sh. Overall, one syllable, eye-sh.
Tough to pronounce, and also tough to spell. I've seen Elch, Einch, Etch, Eitch, Iech, Eric, and Erich. The misspellings used to bother me, but I've grown philosophical about them.
What are some of your publishing credits?
I've had short stories published in Analog science fiction and fact magazine and the sci fi anthology Surviving Tomorrow. And over a dozen novels and six short story collections are available as ebooks and paperback books, and some also as audiobooks.
Final question. Science fiction, sci fi, SF, speculative fiction, or spec fic?
Is it an adventure on future Earth, an exploration of a distant planet, a discovery beyond the limits of human knowledge, or a journey across deep space? Then I'll read it. The genre fiction label doesn't matter.
CV-2 Books, 9780999101674, 210pp.
Publication Date: February 18, 2019