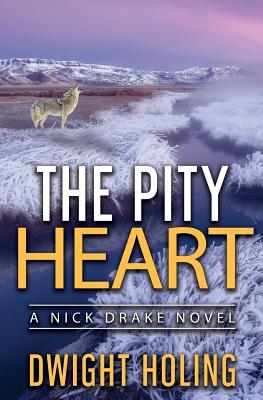 The Pity Heart
Paperback

* Individual store prices may vary.
Description
Nick Drake returns in the thrilling sequel to The Sorrow Hand. A contemporary western thriller.
Set in 1968, Nick Drake is a troubled Vietnam War veteran seeking redemption as a game warden in a quiet land. But when a fighter pilot from a nearby Air Force base mysteriously plummets onto one of his refuges, he is plunged into a deadly showdown with the military. A vexing mystery involving multiple murders ensues, and Nick must turn to the old ways of his Paiute neighbors to hunt for a vicious killer and bring justice to the pitiless high desert.
Read as a standalone or as part of the series.
Award-winning author Dwight Holing draws on his deeply rooted connection to the American West and understanding of the natural world to create a masterful story. With memorable characters and prose that crackles like the unforgiving setting, the suspense builds and drives The Pity Heart to a climax as powerful as a force of nature.
Here's what readers are saying:
★★★★★ If you love C.J. Box's Joe Pickett, you'll love Nick Drake.
★★★★★ Once I started reading The Pity Heart, I couldn't stop.
★★★★★ Beautifully written and pulls you right in.
★★★★★ Vivid, realistic and engaging.
★★★★★ Nick Drake is the Real Deal.
★★★★★ Love the emphasis on Native American folklore and mysticism.
Dwight Holing, 9780999146873, 270pp.
Publication Date: January 16, 2019