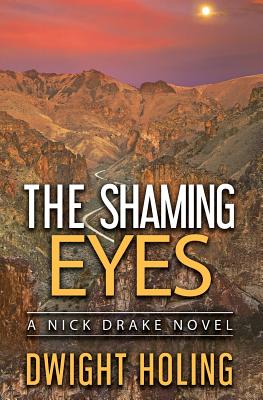 The Shaming Eyes
Paperback

* Individual store prices may vary.
Description
Nick Drake is back A contemporary western thriller.
It's 1969 and spring finally comes to the lonesome Oregon high desert after an especially bitter winter, but for every new beginning, something old must give way. Someone is poisoning wild horses and a vicious killer escapes from prison. A murder thrusts Vietnam veteran turned wildlife ranger Nick Drake into a desperate manhunt that turns into a fight for survival to protect those he holds dear. Spring quickly turns into a season of dying and life in Harney County will never be the same.
Read as a standalone or as part of the series.
Award-winning author Dwight Holing draws on his deep roots to the American West and understanding of the natural world to create a masterful story. With memorable characters and prose that crackles like the unforgiving setting, the suspense builds and drives "The Shaming Eyes" to a climax as powerful as a force of nature.
Here's what readers are saying:
- Wow Simply, wow
- I usually don't read a book this fast; I had to keep turning the pages.
- I loved the setting and mood.
- Characters you can believe in.
- Nick Drake fans are going to love this one.
- Beautifully written and well-paced.
Jackdaw Press, 9780999146897, 270pp.
Publication Date: July 14, 2019