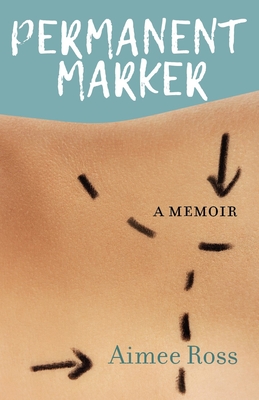 Permanent Marker
A Memoir
Paperback

* Individual store prices may vary.
Description
"Aimee's story reminds us that even when our truths don't reveal themselves in the ways we wish they would, we can always choose how those truths shape, rather than define, our lives."-Darin Strauss, author of Half a Life

"Aimee Ross possesses an indomitable spirit and fierce humor that breathe new life into every page."-Jill Christman, author of Darkroom and Borrowed Babies: Apprenticing for Motherhood

Aimee Ross was living a perfectly normal life raising three kids, married to her high school sweetheart, and teaching at her high school alma mater. Life was perfect—right until it wasn't.

Unhappy in her marriage, Aimee asked for a divorce. Three days later, she suffered a heart attack at age forty-one. Five months after that, she survived a near-fatal car crash caused by an intoxicated driver. Her physical recovery took months and left her body marked by scars. The emotional recovery, though, would take longer, as Aimee sought to forgive the man who almost killed her—and to forgive herself for tearing apart her family.

Aimee Ross writes with candor, wit, and humor as she finds the power in her story and chronicles her transformation into the woman she was always meant to be.

Permanent Marker takes readers on a journey of healing, proving that from darkness can come new light, new love, and a renewed purpose for life.

"A remarkable story of healing, courage, and finding the strength it takes to rewrite your life's story."-Tina Neidlein, humor writer and author of The Girl's Guide and It's a Mom Thing


KiCam Projects, LLC, 9780999158104, 232pp.
Publication Date: March 13, 2018
About the Author
Aimee Ross is a nationally award-winning educator who has been a high school English teacher for the past twenty-five years and an aspiring writer for as long as she can remember. She completed her MFA in Creative Non-Fiction Writing at Ashland University in 2014, but she also dabbles in fiction and poetry. Her writing has been published on www.lifein10minutes.com, www.SixHens.Com, and in "Scars: An Anthology" (Et Alia Press, 2015); "Today I Made a Difference: A Collection of Inspirational Stories from America's Top Educators" (Adams Media, 2009); and Teaching Tolerance magazine.