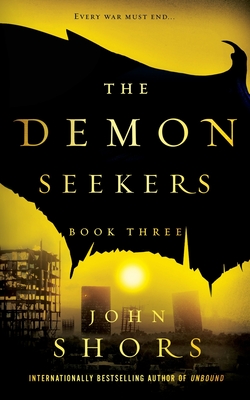 The Demon Seekers
Book Three
Paperback

* Individual store prices may vary.
Other Editions of This Title:
Paperback (12/6/2019)
Paperback (10/29/2019)
Description
Earth, 2171
In a matter of days, the War for Earth will end. As her enemies plot to destroy her planet, seventeen-year-old Tasia must confront her darkest fears while trying to gather the last great human army. Though her powers have grown, so too has the determination of the demons who hunt her.
Assailed by human detractors and her own doubts, Tasia struggles to stay one step ahead of her foes. In a desperate attempt to force a decisive battle, she resolves to make a final stand in the ruins of a once-beautiful city.
While Tasia is inspired by her surging feelings for Jerico, she remains unaware of the looming danger of betrayal. Hope carries her forward, but hate threatens everyone she loves.
The demons gather. Their ship approaches from across the universe. And Tasia must finally decide whether to run from her destiny or to embrace it, whether to risk nothing or everything.
The fate of humanity rests in her hands.
John Shors, Inc., 9780999174463, 394pp.
Publication Date: January 6, 2020