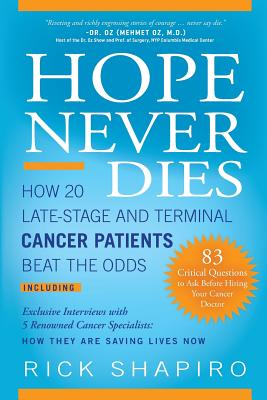 Hope Never Dies
How 20 Late-Stage and Terminal Cancer Patients Beat the Odds
Paperback

* Individual store prices may vary.
Description
In HOPE NEVER DIES, Rick Shapiro brings profound, insightful, information-packed testimony of real hope, and news of life-saving, groundbreaking integrative and alternative treatments for cancer patients.
20 POWERFUL, INSPIRATIONAL INTERVIEWS with late-stage and terminal cancer survivors, who are thriving 5, 10 and 20 plus years after receiving a dire prognosis, reveal how they beat the odds.
5 EXCLUSIVE INTERVIEWS WITH RENOWNED CANCER SPECIALISTS illuminate their innovative, therapeutic paradigms that are saving lives now. These progressive icons are at the vanguard of cutting-edge cancer care.
83 CRITICAL QUESTIONS you MUST ask each of your cancer doctors before hiring them.
"The title says it all. There is no false hope... There is much to be learned from those who don't die when they are supposed to..."
--BERNIE SIEGEL, M.D. Author of Love, Medicine and Miracles and The Art of Healing
Innovative Healing Press, LLC, 9780999199701, 328pp.
Publication Date: November 7, 2017