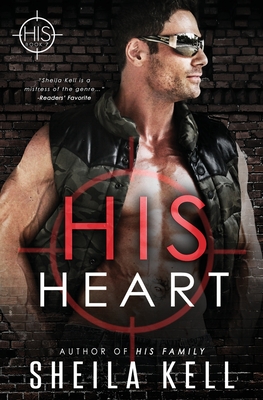 His Heart
Paperback

* Individual store prices may vary.
Description
From Romantic Suspense BEST-SELLING Author: What happens when a man is called to protect the woman who captured then crushed his heart? In Sheila Kell's story of danger and second chances, two people are connected by a painful past and a love that is threatened.
His heart is hers.
Eight years earlier, Matt Hamilton gave away his heart only to have that love snatched away. When called in to protect Caitlyn Robinson, the damaged woman from his past, he's prepared to risk everything to make sure she's kept safe.
By the time his team is in place, Matt discovers Caitlyn hasn't truly recovered from the event that previously destroyed them. He's determined to be the one to save not only her life, but her heart. Possibility drives him forward, but first, he must catch the bastard chasing her.
***
HIS HEART is the seventh book in the HIS romantic suspense series. If you like thrilling, edge of your seat reading with sizzling sex scenes, then you'll love each installment of Sheila Kell's best-selling series.
Pick up your copy of HIS HEART to meet the hot-bodied men of HIS today
Hamilton Investigation & Security: HIS series
Books do not have to be read in order, but you'll get the whole picture if you do
HIS DESIRE (Jesse & Kate) FREE
HIS CHOICE (AJ & Megan)
HIS RETURN (Jake & Emily)
HIS CHANCE (Devon & Rylee)
HIS DESTINY (Trent & Kelly)
HIS FAMILY (Blake & Elizabeth) Novella
HIS HEART (Matt & Caitlyn) Sept 2017
Praise for Sheila Kell
"Sheila Kell is a mistress of the genre..." - Readers' Favorite
"Sheila Kell...will have readers wanting more " - InD'tale Magazine
"One thing is for sure, Sheila Kell has solidly landed herself on my One-Click-Addiction List with this group." - BookwormBetties
"Wow can it get any better? Well true to Sheila's style, yes, yes it can get better." - The Book Fairy Reviews
Cunningham Publishing, 9780999249604, 318pp.
Publication Date: September 5, 2017