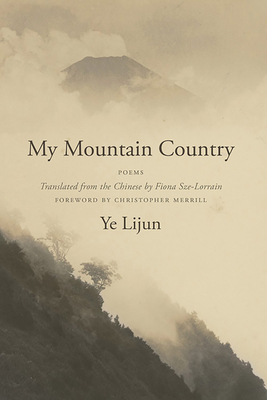 My Mountain Country
Paperback

* Individual store prices may vary.
Description
Poetry. Asian & Asian American Studies. Women's Studies. Translated by Fiona Sze-Lorrain. In this remarkable English debut, award-winning Chinese contemporary poet Ye Lijun offers readers a lyrical diorama of nature and the inner world. By turns intimate and profound, Ye's poems in Fiona Sze-Lorrain's masterful translations make music of everyday silences, and illuminate the invisible openings in our lives. In this vital collection by one of China's essential literary voices, each encounter is an invitation, wherein a village, a nest, a telescope, or a book proves to be a transient guide to the unknown. Fiona Sze-Lorrain brings her sense of immediacy, and her lucid control of tone, to these inspired translations of Ye Lijun which capture, with unerring musicality, the rhythms of the original Chinese.--Martha Kapos Ye Lijun's quiet, powerful poems accrete from places, memories, affect, and ideas unique to the poet. The distinctiveness of Ye's diction, metaphors, and associations make her imagination and intelligence anchor in ours. We come away from Ye's mountain, her house, her books, her loves, and return to those of our own with our senses made more acute. Translator Fiona Sze-Lorrain, a gifted poet herself, creates an English-language voice for Ye Lijun that has all the grace and surprise of the original.--Thomas Moran T]he joys revealed in MY MOUNTAIN COUNTRY, which bring together a selection of poems from her three books, elegantly translated by Fiona Sze-Lorrain, suggest that for an acute observer of the natural world every hour, secret or not, may become an occasion for opening, 'in clarity, ' to the beloved, to nature, to the invisible--leaves and roses and flowering trees that at a moment's notice may awaken in her soul, alerting her once again to the mysterious bounty of life on earth.--Christopher Merrill.
World Poetry Books, 9780999261347, 208pp.
Publication Date: August 27, 2019