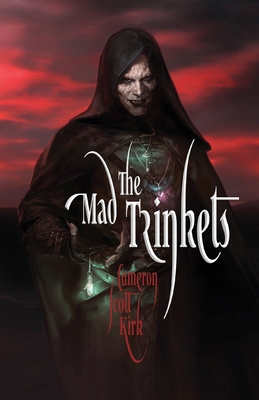 The Mad Trinkets
Paperback

* Individual store prices may vary.
Description
In Cameron Scott Kirk's jaw-dropping, grim fantasy adventure, a warrior princess, a scholarly monk, and a vengeful girl must defeat a madman possessed by a soul-corrupting metal to save the land of White Cloud.
A renowned warrior, Brynhild Grimsdotter, and her biographer, William Barding, aid a young girl seeking vengeance for the murder of her father, a trinket bearer and victim of the king's obsession with finding occult artifacts.
When a madman resurrects from the shadows to exact revenge upon the land of White Cloud, they must join forces with a deadly assassin and a mysterious knight to save its inhabitants-and then kill the king. But the girl's desire for vengeance may very well aid the madman they are determined to stop.
Unsettling, bold, and witty, set in a world as bleak as it is bright, The Mad Trinkets is a kaleidoscopic adventure into madness.
Mage's Lantern, 9780999280966, 340pp.
Publication Date: September 7, 2021