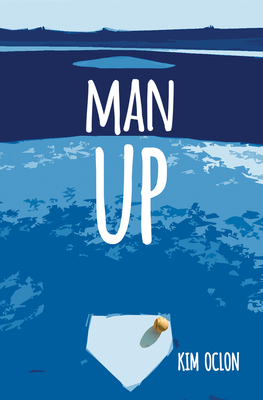 Man Up
Paperback

* Individual store prices may vary.
Description
With David's final baseball season starting and college plans still up on the air, he begins senior year on edge. But when his baseball coach, Coach Kelly, wants to know if David is gay, he is left speechless. David knows the answer to the question but was hoping to get through his final year without anyone noticing the hallway glances at Tyler, a star on the boy's track team, or their rides home together each day. In a school where his friends are turning their backs on him, he finds a new set of allies, that he didn't know roamed the high school halls. Although he was forced out of the closet before he thought he was ready, what happens next is up to him. David can either cower in the corners or man up.
Praise For Man Up…
"Man Up is an important and realistic young adult novel that deals with bullying, homophobia, and physical violence against the backdrop of varsity sports." —Ashley Hostrom, Foreword Reviews

"Oclon thoughtfully develops David's and Tyler's inner transformations when it comes to self-acceptance, noting how others in their community need to grow with them. Whiteness is situated as the default for all major characters. An engaging and enlightening coming-out tale for teens of all sexual persuasions." —Kirkus Reviews

"Interspersed with interstitials by Tyler, David's narrations is down-to-earth and relatable, particularly for teens who live in places without large LGBTQ communities. Students preparing for the leap from high school to college in particular will find plenty to identify with." —Publishers Weekly

"Oclon's characters are likable and well developed, with endearing flaws for the heroes, and villains whom readers will love to hate. Fast-paced action sequences stand out in a story that mostly focuses on the main characters' internal lives...VERDICT... this quick read is excellent for reluctant readers. Purchase where sports books—especially those with a twist—are in high demand."  —School Library Journal, Heather Waddell, Sargent Memorial Library, Boxborough, MA

"David grows and changes as a character throughout the book, and as a writing teacher, I appreciate that the story ends at a resolution of his character's "arc."" —Jen Reads the Rainbow

"David's journey to finding his own strength and voice was compelling, but he also learned sometimes you have to deal with curveballs that are thrown your way—you may not be able to control what others think or whether or not you'll get that specific scholarship you were hoping for. But you can choose whether you'll let those curveballs passively strike you out or if you'll step up to the plate!" —Nicole, Feed Your Fiction Addiction
Trism Books, 9780999388631, 240pp.
Publication Date: April 22, 2020
About the Author
With a BA in screenwriting and MFA in Fiction, Kim taught high school for six years before becoming a mom to the best girl and boy in the world. While teaching, she was fortunate to teach creative writing and film classes in addition to trudging through the classics. She also co-founded the school's first gay-straight alliance. A reader all her life, Kim's first literary loves were a series of Care Bear Books and Grover's Book of Resting Places. Eventually she graduated on to Sweet Valley Twins and The Babysitters Club. Kim lives in East Dundee, IL with her husband and two kids. MAN UP is her first novel. Her second novel, THE WAR ON ALL FRONTS, will be published in May 2022.