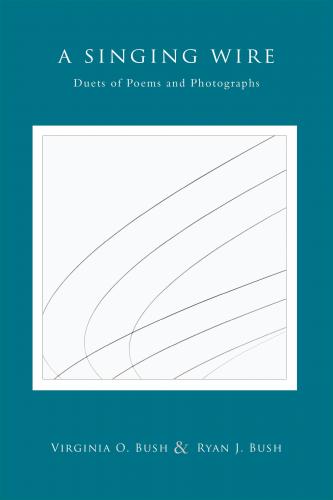 A Singing Wire (Paperback)
Duets of Poems and Photographs
Beyond Editions, 9780999393017, 162pp.
Publication Date: July 12, 2019
* Individual store prices may vary.
Description
This collaborative book features poems by Virginia O. Bush and photographs by Ryan J. Bush, a duet across decades as their work indirectly influenced each other over the years. Images and text are presented on completely equal footing, rather than one overshadowing the other.

In this way, the book presents a model for how we can relate to each other in harmony and cooperation, combining our individual strengths into a greater whole, rather than the me-first approach that runs rampant in our modern world. A pair of 3-D glasses is included, as some photographs are in 3-D.

About the Author
VIRGINIA O. BUSH, M.A., has engaged in the study and use of language in many ways, having taught standard English composition and literature in college courses, as well as teaching English as a Second Language to adult students from diverse language backgrounds, and also studying her African grey parrot's acquisition of meaningful spoken language. In addition, she has written poetry, drawing upon insights gleaned from many sources. Virginia is based in Durham, CT.

RYAN J. BUSH, PH.D. is a fine-art photographer, writer, and Reiki master/teacher, whose most recent book is The Music of Trees. He uses techniques such as abstraction, multiple exposures, and 3-D photography to explore themes of consciousness, the visionary experience, and the mysteries hidden in the mundane. His work has been exhibited internationally, and is in several collections including the Museum of Fine Arts Houston, the Stanford Medical Center, and the C.G. Jung Institute of San Francisco. Ryan is based in Los Gatos, CA.

Praise For A Singing Wire: Duets of Poems and Photographs…
"The Bushes are imminently gifted in their respective crafts, and their collaboration resonates with an extreme generosity of spirit and a true desire to welcome people into a more expansive experience of the world—one that, like poetry or visual art, "is a human concern, one that should speak to a shared humanity."

— Letitia Montgomery-Rodgers, Foreword Reviews

"There is magic in this mother-son duet. The poems walk the earth, are heartbeat and the passion of memory. The images float, are luminous patterns, sensuous flower and plant forms, sky-lit trees. They sing in harmony or in contrapuntal melody. They delve deep into the mythic, rise high into the mystic where "each moment slips its shining noose/around infinity." A Singing Wire is a wonder and an enchantment. Immerse yourself in it, your soul will thank you."

— Naomi Ruth Lowinsky, Author of The Rabbi, the Goddess and Jung, and The Faust Woman Poems

"By pairing poetry and photography, the written word and the visual image, A Singing Wire allows us to experience a rich emotional journey, with harmonies strengthened by the lifelong interaction of mother and son."

— Deborah Klochko, Executive Director & Chief Curator, Museum of Photographic Arts, San Diego


or
Not Currently Available for Direct Purchase