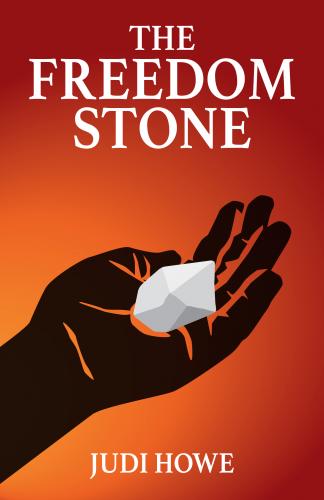 The Freedom Stone (1st Edition)
Paperback

* Individual store prices may vary.
Description
Moses, an eleven-year-old slave, understands what slavery means. Massa owns him. He has no control of what he does, or when he does it. A shy, frightened boy, he obsesses about the fact that he and his family are nothing more than property - the same as a mule or a wagon. After his Papa dies, a shocking surprise changes Moses' life forever. His fears turn into action as he leads Addie, his sister, and their Mama on an exhausting and arduous journey to freedom.


Praise For The Freedom Stone (1st Edition)…

Judi Howe has written a poignant, page-turning story woven through with vital history – about plantation life, slavery, abolitionists, the Underground Railroad, Nat Turner's Rebellion, The Middle Passage and more. I wish I'd had The Freedom Stone to read when I was a child.
-Pam Kelley, Author, Money Rock

Delivering difficult and complicated content to children with both sensitivity and honesty is no easy feat; Judi Howe's The Freedom Stone does just that. Her book explores a chapter of history our children need to understand – a chapter that is too often ignored or sanitized -- through a story that will engage the minds, the hearts, and the imaginations of young readers. I hope this book finds its way onto shelves in schools, libraries, and homes far and wide.
-Kathryn Hill, President & CEO, Levine Museum of the New South


The Freedom Stone is a story of the triumph of family, friendship, and courage. Full of meticulously researched history, readers are transported into the everyday lives, joys, and fears of enslaved people in Virginia in the 1850s. Teachers will find that The Freedom Stone provides multiple opportunities to help students understand the complex and terrible history of slavery and the people who risked- and even lost- their lives to fight against it.
-Todd Miller, M.Ed., 5th Grade History Teacher

"Judi Howe captures the harshness of the life of an enslaved person in the American South - from the fear they faced, to the laborious work endured, and to the discovery of a potential better life in the North. Howe expertly connects you to her characters and the arduous journey Moses, Addie, and Mama undertake to escape from bondage and seek their freedom."
-Morgan Pierce, Executive Director, Museum of Culpeper History

If we don't understand and learn from history, we will not understand when history is being repeated. The Freedom Stone presents an accurate historical detail of what the experience was like, both on the plantation, and on the path to freedom. This valuable work invites middle-grade readers to put themselves in the shoes of Moses and Addie, two runaway slaves seeking to escape the atrocities of slavery and flee to the North. More importantly, this book will be a useful tool in the classroom for educators who wish to go beyond the all-too-often laundered version of American history.
-Howard N. Lee, Founder and President of the Howard N. Lee Institute for Equity and Opportunity in Education








Shaymark Press, 9780999430279, 222pp.
Publication Date: October 20, 2018
About the Author
Passionate about the importance of reading for school success, Judi
Howe started writing books for children in retirement. Her long
career included being a middle and high school teacher, a business owner,
and a published author of a sales training book.

Currently working on another middle grade novel, she lives in North
Carolina with her husband of fifty-four years, and lives close to their
daughters, sons-in-law, and five grandchildren.