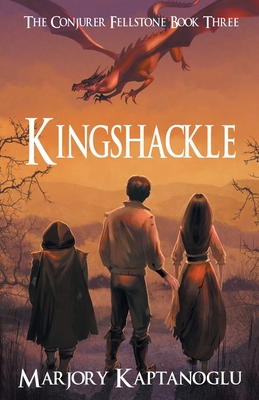 Kingshackle
The Conjurer Fellstone Book Three
Paperback

* Individual store prices may vary.
Other Editions of This Title:
Digital Audiobook (9/24/2020)
Hardcover (7/24/2020)
Description
The award-winning trilogy that began with DREADMARROW THIEF is now complete.
Ash is missing and must be found. Confounding the matter, the Conjurer King Slayert launches an attack against the remaining free cities. Saving the world falls to our three heroes, who reunite to steal Slayert's own crown, called the Kingshackle-a magical artifact that makes him invincible. But their success depends on Tessa winning the King's Challenge, the ultimate test of her intelligence, valor, and heart.
Praise for Book Two, Gravenwoood:
"Kaptanoglu's prose is crisp and purposeful, charged with feeling, and always attuned to what will engage readers in each moment." -The BookLife Prize
"Grounded, likable characters with complex emotions anchor this excellent series installment." -Kirkus Reviews
Praise for Book One, Dreadmarrow Thief:
"For those who enjoyed Harry Potter but who seek a feisty, determined female protagonist." -Midwest Book Review
Silver Medalist, SPR Book Awards: "A stellar entry into the genre of YA fantasy."
"Celebrates life and love the way only the best fantasy tales can." -Kirkus Reviews
Marjory Kaptanoglu, 9780999449264, 248pp.
Publication Date: July 24, 2020