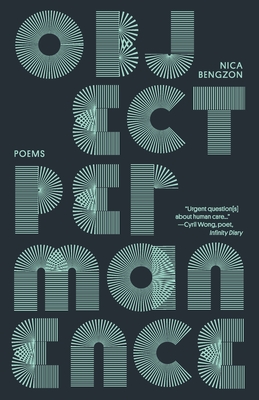 Object Permanence
Poems
Paperback

* Individual store prices may vary.
Description
Selected as one of Ms. Magazine's 2021 Poetry for the Rest Us. "Care, dichotomy, healing."
An urgent debut by poet Nica Bengzon, demanding a reckoning with what it means to be healthy against a backdrop of widespread illness and violence. Selected as the third winner of the annual Gaudy Boy Poetry Book Prize (2020) by Singapore Literature Prize-winning poet Cyril Wong.
At the heart of Nica Bengzon's timely collection is a bold challenge to our understanding of health. Using the language of medicine and psychology, Bengzon probes for ironies and conflicts in these fields and their professed capacity to provide care through control and scientific truth. A truly interdisciplinary experiment, Object Permanence at once embraces and refuses the scientific method, repeatedly testing what it means to have hope amid grief, illness, violence, and survival. Subtle yet potent, philosophical yet grounded, clinical yet intimate, Bengzon's poems expose the limits of healing in its institutionalized and professionalized forms.
"You wonder why it feels as though you're playing peek-a-boo with a wall, why the baby doesn't laugh. I hate this game. I always have, because it's a magic trick I can't see inside of, no more than you can read the signs in my head. The question of your existence is too grave to tickle my funny bone. When I take the steel balls of my fists to your arms, remember this is the only way my youngest self knows how to love, always half-terrified of things it can't see."
Gaudy Boy, LLC, 9780999451434, 136pp.
Publication Date: April 1, 2021