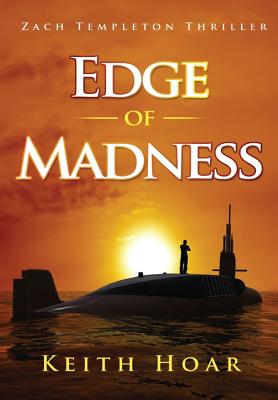 Edge of Madness (Zach Templeton Thriller #1) (Hardcover)
Zhetosoft Publishing, 9780999459027, 324pp.
Publication Date: October 9, 2017
* Individual store prices may vary.
Description
In this edge-of-your-seat, opening book of the Zach Templeton Thriller Series, Edge of Madness, former SEAL, Zachariah James Templeton, is plunged into a race against the clock as the United States teeters on the brink of global nuclear war.
"It felt like I was reading a Tom Clancy novel. Think Hunt For Red October. Exciting and fun read. Read it in one sitting..." Amazon Reviewer
"I chose this book for the excitement of submarine warfare. It provides that and much more I highly recommend this book." Amazon Reviewer
Edge of Madness is a high-octane thriller that has everything you want in a novel--treason, betrayal, murder, suspense, submarine warfare, realistic dialog, and an honor-driven, yet believable hero. Prepare yourself for the roller coaster ride that is Edge of Madness.
A bomb rips through downtown Baltimore.
In the cold North Atlantic, a U.S. Navy submarine is attacked without warning.
A classified DOD communications system is plagued by unexplained interference.
A deep cover operative is forced to make a harrowing, underwater rendezvous.
Seemingly unconnected events threaten to plunge the America into a global war.
Don't miss the fever-pitched action, as unsuspecting hero, Zach Templeton faces the toughest battle of his life. Can he discover the alarming truth and stop the madness before it is too late? But the real question is....will he live to tell anyone?
Globe-spanning, terrifying, hold-your-breath action you will not want to miss.
Are you ready for the best story you will read this year? Download it now, grab some coffee, and start reading.
About the Author
Keith Hoar is a writer and former IBM Certified Business Solutions Expert who consulted for numerous Fortune 100 companies. He designed and crafted CEO/CIO level business intelligence reporting systems, database analysis and loading procedures, and automated software sub-systems for companies such as: Motorola C&E, Cigna Insurance, Hyundai Motors NA, Continental Airlines, Sprint Wireless, Wells Fargo, Banker's Insurance, and Hospital Corp. of America.

Keith owns his own consulting company that designs and builds custom software systems and sophisticated Excel-based reporting systems.

Keith spent ten years in the United States Navy serving at various duty stations. At his last duty station, Naval Submarine Base New London, he was responsible for maintenance and operation of a periscope approach tactics trainer. His duties included: setup of training scenarios, input of maneuvering orders from the attack center, monitoring of firing point procedures, and tracking and scoring outcome of weapons launch.

Keith is a PADI certified SCUBA diver with 100+ dives all over the Caribbean.

Keith lives with his wife in Northeast Kansas. He has also published the novel - Edge of Madness.