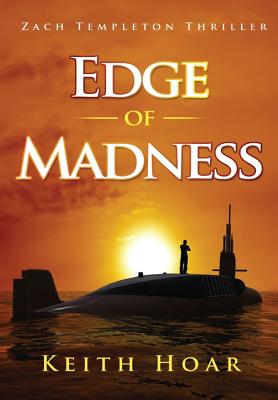 Edge of Madness (Zach Templeton Thriller #1) (Hardcover)
Zhetosoft Publishing, 9780999459027, 324pp.
Publication Date: October 9, 2017
* Individual store prices may vary.
Description
The toughest battles are within us.
Zach Templeton is a man on a mission - several, in fact. As a highly decorated former Navy SEAL, he's seen it all. His raw toughness and grit has taken him to faraway lands where he's proudly defended the cause of freedom.
But now... he must fight the war at home.
Settled into civilian life, he's now running a startup company whose main client is the Department of Defense. But the department is facing an intermittent interference problem that has been plaguing their microwave systems. And if the problem persists, Zach's entire company could be destroyed. What's worse, Zach's beautiful wife Angie moved out of their home three months ago and now wants a divorce. It's the latest domestic trouble facing Zach, who's still haunted by the mysterious disappearance of his parents five years earlier.
Meanwhile, he's being drawn into an evil and intricate plot that threatens to take everything he holds dear. With his SEAL training and relentless drive, it's up to Zach to save himself - and so much more.
A globe-spanning, fast-paced thriller that's reminiscent of the works of Tom Clancy and Dale Brown, Edge of Madness is the debut novel that will have you on the edge of your seat. From the hometown scenery of Tulsa, Oklahoma, to the corridors of power in Washington, D.C., to the dark streets of the Czech Republic, Zach Templeton is in for the fight of his life. And with every step he takes, with every new danger lurking in the shadows, he gets closer to the disturbing truth that will shatter his world. The only question is... will he survive to tell the tale?
About the Author
Keith Hoar is a writer and former IBM Certified Business Solutions Expert who consulted for numerous Fortune 100 companies. He designed and crafted CEO/CIO level business intelligence reporting systems, database analysis and loading procedures, and automated software sub-systems for companies such as: Motorola C&E, Cigna Insurance, Hyundai Motors NA, Continental Airlines, Sprint Wireless, Wells Fargo, Banker's Insurance, and Hospital Corp. of America.

Keith owns his own consulting company that designs and builds custom software systems and sophisticated Excel-based reporting systems.

Keith spent ten years in the United States Navy serving at various duty stations. At his last duty station, Naval Submarine Base New London, he was responsible for maintenance and operation of a periscope approach tactics trainer. His duties included: setup of training scenarios, input of maneuvering orders from the attack center, monitoring of firing point procedures, and tracking and scoring outcome of weapons launch.

Keith is a PADI certified SCUBA diver with 100+ dives all over the Caribbean.

Keith lives with his wife in Northeast Kansas. He has also published the novel - Edge of Madness.