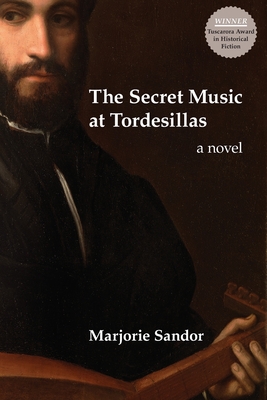 The Secret Music at Tordesillas
Paperback

* Individual store prices may vary.
Description
It is April, 1555, and Juana I of Castile, the Spanish queen known as "la loca," has died after forty-seven years in forced seclusion at Tordesillas. Her last musician, Juan de Granada, refuses to depart with the other servants, forcing two functionaries of the Holy Office of the Inquisition to interrogate him in the now-empty palace. But is it really empty? Or is there, as Holy Office suspects, a heretic hidden on the premises, a converso secretly practicing the forbidden rites of Judaism? Only Juan knows the answer, and his subversive tale is at once a ballad of lost love and a last gambit to save a life--and a rich cultural and spiritual tradition on the verge of erasure.
"Radiant, passionate, deeply intelligent and intensely moving, this brilliant novel brings alive a place and time surprisingly resonant with our own. Love and music burn like a laser through these glorious pages."
-Andrea Barrett
"In The Secret Music of Tordesillas, the fabulously gifted Marjorie Sandor tells the absorbing story of a Jewish musician and his queen, both living precarious lives in the tumultuous world of the Spanish Inquisition. Sandor's lustrous prose resonates like the music she so eloquently describes and her characters are exquisitely complicated. Reading these gorgeous pages, I felt that I too had taken up residence in some castle full of dark corners."
-Margot Livesey
"An historical novel of striking imagination and lyricism, this sly tale of sixteenth-century Spain, with its secrets and masks involving the interrelationships of Catholics, Muslims and Jews, has an uncanny bearing on our own country's diversity tensions. It is a pleasure to have another of Marjorie Sandor's delicious fictions: she is writing at the top of her form."
-Phillip Lopate
"I found Marjorie Sandor's The Secret Music at Tordesillas irresistible, as appealing for its grand romantic adventure as it is for its clear-eyed exploration of culture, tradition, and identity. Its narrative-replete with hidden Jews, palace intrigue, a captive queen, a hopeless love-is rendered in a prose as intoxicating as the ancient music that informs it. This is history in the form of a haunting song."
-Steve Stern
Hidden River, 9780999491539, 256pp.
Publication Date: June 15, 2020