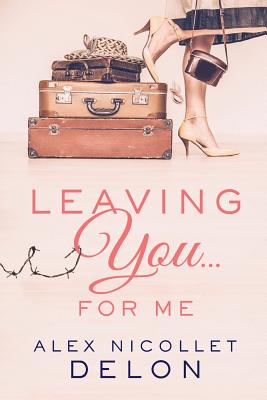 Leaving You...For Me
Paperback

* Individual store prices may vary.
Description
While there are any number of dating guides out there - books on everything from how to get a man to how to keep him, books which give us rules or encourage us to break rules, books which idealize romance and others which aspire to empower us to reclaim and retain our independence - few books speak as honestly to the trials, tribulations, poignancy and humor of re-entering the dating pool after a long, monogamous relationship, or to what it might take to muster the courage and mettle to do so.

Alex Delon was 17 when she married and 65 when she walked away from the man she loved and the only life she knew. Through those years together, she had worked with her husband to build a multi-faceted, multi-million-dollar business - truly a family business - a cornerstone for not just them but their three grown children. She'd been his wife, lover, and partner, their mother...and loved being a grandmother. She'd also become a master of denial...that defense mechanism that becomes a place littered with eggshells, lies and betrayal where we hide from the truth and smile for our family photos.
Despite the back-story, LEAVING YOU... for me, is neither a rant nor sermon, a tirade nor a pedantic list of rules. It was written in real time - in those raw-explicit moments not tempered with perspective. And despite the author's age, it is not written for seniors. Rather, LEAVING YOU... for me, is a book for any woman picking eggshells out of her feet, wondering why or what she can do to fix her relationship, glue her broken dreams back together, and for any of you seeking to reclaim your sense of self, your sense of humor, and your sense of adventure in the wake of a failed relationship - whatever your age.

For Alex, beginning again has been the adventure of a lifetime and the adventure continues and expands on her website, https: //www.alexdelon.com. It's a place for all of us to learn, contribute, share, pour our hearts out, help each other mop up the mess and then laugh at the often times utter hilarity of love and life beyond a dysfunctional relationship. Buckle up and never give up. You are not alone...never alone.
Nicollet Press, 9780999520802, 304pp.
Publication Date: June 12, 2018
or
Not Currently Available for Direct Purchase