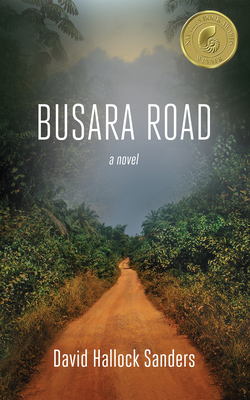 Busara Road
Paperback

* Individual store prices may vary.
Description
After the death of his mother, 11-year-old Mark Morgan starts a new life with his father at the Kwetu Quaker Mission high in the rain forest of western Kenya. It is 1966, just after Kenya's bloody struggle for independence. As Mark embraces his own independence in this new home, he develops a deep love for the Kenyan people while experiencing cultural and sexual awakenings beyond his years. Beneath the mission's calm surface, however, simmer animosities left over from the long fight against colonialism--and what Mark discovers here will change him forever.
Praise For Busara Road…
"In his authentic and haunting first novel, BUSARA ROAD, David Sanders captures the turbulent early days of newly-independent Kenya through the eyes of eleven-year-old Mark Morgan, the sensitive and inquisitive son of a widowed Quaker missionary. Set in the aftermath of the brutal conflict between colonial British forces and the Mau Mau rebels, the novel navigates the jungle of grief and hope that is a community emerging from years of violence, as well as the suffering of those set upon avenging past atrocities. Sanders creates characters who are memorable, distinctive, multi-dimensional and indelibly true. In the spirit of the best of Norman Rush and Barbara Kingsolver, BUSARA ROAD is a Bildungsroman of insight and compassion from an author who has mastered both the substance and the emotion of his subject matter. A riveting tour de force, the novel will appeal to anyone who has ever been eleven years old and at sea in the world. BUSARA ROAD leads readers both into the African past and into the depths of the human spirit—it is a road not to be missed." —Jacob M. Appel, author of Millard Salter's Last Day

"Reading BUSARA ROAD is like having your hair cut by a one-armed man who may be a murderer—you're afraid of what might happen next, but you're certainly not going anywhere, and you're excited to find yourself amid a mystery. That very haircut, and a flash of a white shirt against a green jungle, the calls and grunts of unseen animals in the dense foliage, a thick leaf wrapped around a wounded arm with a vine, birds and fish swimming and flying: reading this novel, I was caught in so many vivid images, so many sharp sensations as I was borne along through Kenya's history and quotidian features, traveling with eleven-year-old Mark Morgan as he shapes his own story. Mark's path ultimately illuminates what has been so tantalizing and unclear in the rich, hidden world around him; the perfect guide, he is guileless and yet awake, often left alone, always eager to pursue new experiences and sensations." —Peter Rock, author of My Abandonment

"BUSARA ROAD is a beautifully written, slow-burning drama that touches on devastation and collective memory, culminating in the piercing discovery that knowing the truth comes at a personal cost." —Karen Rigby, Foreword Reviews
New Door Books, 9780999550120, 282pp.
Publication Date: June 1, 2019
About the Author
David Hallock Sanders has seen his short fiction, essays, and plays published in a range of journals and anthologies. He was shortlisted as a finalist for the William Faulkner–William Wisdom Prize for a novel-in-progress, and he is a winner of the Third Coast national fiction competition and the Benjamin Franklin Tercentenary Autobiography Project. BUSARA ROAD is his first novel. A screenplay based on the novel was a semifinalist in the Cinequest Screenwriting Competition.
or
Not Currently Available for Direct Purchase