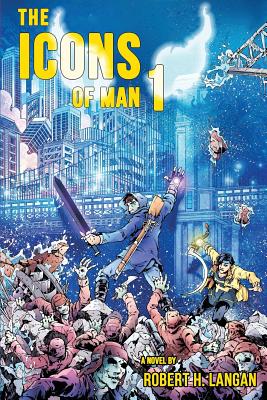 The Icons of Man (Paperback)
Book One
Univocity Books, 9780999566923, 212pp.
Publication Date: December 6, 2017
* Individual store prices may vary.
Description
A storm is coming. Is your team ready?

Duration, the beloved pastime of the nation of Roslyn. Superstar athletes wield transcendental powers to fend off the Blood Poachers, ruthless entities who conjure storms and eat souls. For seven centuries, the Durationists have had the upper hand against their enemy. So when one of Roslyn's greatest cities is attacked, the Durationist League thinks it has the situation under control.
But Lucas from Slag Falls knows better. A maverick veteran who once was forced to walk away from the sport he loved, Lucas has returned with a team of castoffs and rejects that he believes can defeat the Blood Poachers once and for all. He alone realizes what the league refuses to admit: the Blood Poachers have become stronger, smarter, crueler... and they may have even turned one of his fellow players into a traitor. Ignoring League Command, Lucas and his teammates battle across the storm-ravaged city in a desperate attempt to stop the inevitable. Along the way they not only tangle with the minions of their enemy, but confront rival Durationists from across the league seeking glory and fame, ignorant to the truth-and any one of them could be a double agent. Either Roslyn's superstars will live to see the storm break... or the entire city will be wiped out by a mind-shattering thunderstorm.
About the Author
Robert H. Langan is a PhD Dropout and a white box philosopher; currently he is almost a personal trainer and an aspiring uber driver; he upcycles furniture but doesn't know how to swim; he was fired from one grocery store for plotting a coup, but incidentially he quit another out of contempt. He lives in the New Jersey Pine Barrens, in a self-imposed but mutually beneficial exile.