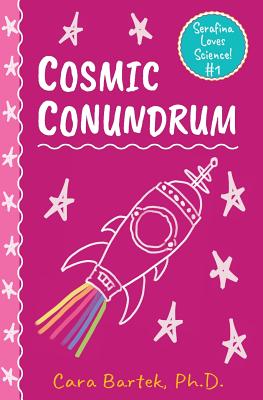 Cosmic Conundrum
Paperback

* Individual store prices may vary.
Description
In Cosmic Conundrum, sixth grader Serafina Sterling finds herself accepted into the Ivy League of space adventures for commercial astronauts, where she'll study with Jeronimo Musgrave, a famous and flamboyant scientist who brought jet-engine minivans to the suburbs. Unfortunately, Serafina also meets Ida Hammer, a 12-year-old superstar of science who has her own theorem, a Nobel-Prize-winning mother, impeccable fashion sense-and a million social media followers. Basically, she's everything Serafina's not. Or so Serafina thinks.Even in an anti-gravity chamber, Serafina realizes surviving junior astronaut training will take more than just a thorough understanding of Newton's Laws. She'll have to conquer her fear of public speaking, stick to the rules, and overcome the antics of Ida. How will Serafina survive this cosmic conundrum?BOOK ONE of the Serafina Loves Science series.
Absolute Love Publishing, 9780999577332, 120pp.
Publication Date: September 24, 2018
About the Author
I love science! More importantly, I love helping kids develop a passion for science. This world is a big, scary, and confusing place sometimes, but the good news is we can rely on some seriously important things to help us through, like faith and family and friends and education! Education helps open the door to opportunities and worlds we may not otherwise experience. It actually makes the world a bigger place! But we have to feed our education, and we do that by scratching our curiosity. Curiosity is the key that helps our brains and our hearts grow. I created the Serafina Loves Science! series to show that science is not only interesting but relatable. I hope to make the world bigger and brighter and way more interesting through science! I live in Texas with my husband Matt and my two little girls, Caroline and Penelope. I am also compelled to mention my two furry children, Beetle and Bob. Bob is a weiner-beagle (think overstuffed sausage with long legs, ) and Beetle is a possible pit/raccoon mix; genetic tests are still pending. We also have a couple of hissing cockroaches named Shimmer and Shine that live in a pink terrarium on our kitchen island. Matt and I own an agricultural business that keeps us busy and sunburned! In my spare time, I love to read and travel. I also am an alien and cryptid enthusiast; I especially love werewolves! Most people think I'm totally weird for my strange hobbies so it has forced me into more solitary pursuits like writing. And the rest is history!