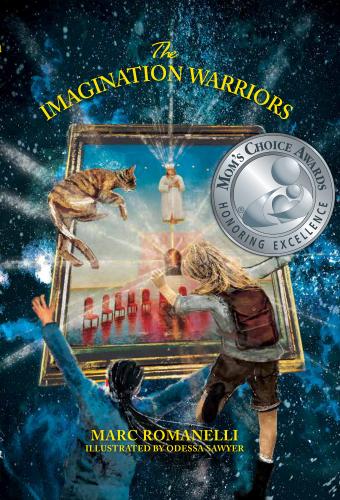 The Imagination Warriors, Book One (Hardcover)
Little Roman Press LLC, 9780999638903, 236pp.
Publication Date: September 30, 2018
* Individual store prices may vary.
Description
Mining the landscape of the village of Lamy, New Mexico, feisty and independent nine-year-old Philomena teams up with her grandmother's psychic tabby cat to solve a series of mysteries involving curious paintings that begin to morph and change. Their investigations take them across time and space to worlds powered solely by imagination. Eventually the courageous time travelers decode the baffling paintings and discover that inspiration is the key; and the only tools necessary to take flight and soar are curiosity, imagination, and the stroke of an artist's brush.
About the Author
Marc Romanelli lives in Lamy, New Mexico, an historic, authentic western village that was the site of a famous Fred Harvey hotel called the El Ortiz Hotel, which catered to railroad passengers traveling from Los Angeles to Chicago and stops in between. Marc lives with his three muses: his wife, Ahdina, their daughter, Philomena, their son, Redford, and, Bella, the German shepherd.
Praise For The Imagination Warriors, Book One…
"A curious, free-wheeling read for inquiring young minds." Kirkus Reviews

"A delightful romp from the high-desert settings of Northern New Mexico across the limitless lands of imagination. Laws of discovery and wonder rule Romanelli's captivating world of inspired nonconformity, where an unexpected assembly of characters finds courage, connection, and friendship in the forces of art and creativity. Together they bend space and time to break the bounds of ordinary and encounter the essence of imagination. Their adventures encourage us to tap in to the fierce warrior spirit required to be an artist, an authentic individual, or a talking cat, reminding us that magic lies in the theater of an open mind."
—Carmella Padilla, Author, The Work of Art: Folk Artists in the Twenty-First Century
Recipient, 2009 New Mexico Governor's Award for Excellence in the Literary Arts

"This first children's book from Marc Romanelli—a beautifully told story with excellent illustrations —is a delightful treat for adults as well. Here, drawing on his creative abilities in photography, Romanelli has opened up an entirely new medium for his storytelling. Readers will love it!"
—Catherine Allen, Chairman and CEO, The Santa Fe Group
Author, The Retirement Boom, Reboot Your Life, and The Artist's Way at Work

"Marc Romanelli weaves a magical, fur-tingling tale that travels through time, art, and love. Journey to unexpected lands to meet brave, bold and sometimes belligerent characters who remind us that the power of imagination is a gift and our most creative force. This is an enticing adventure for elementary children and an engaging read-aloud for families."
—Beth A. Clayton, Founder & Director, Journey Montessori School

"In contemporary clinical psychoanalysis a goal is to contemplate, explore and engage multiple states of self-experience. With a gleeful wink and a reverent nod to Natsume Sōseki's once banned I Am a Cat, Marc Romanelli's adventure invites the reader—young and, alas, not so young—into a similar engagement. The ride is full of thrilling and unexpected twists and turns ‎that have me aching for whatever's next for the characters in this heart-thumping tale. In multiple self-experience, one hopes to hold together a balance, an integrity and consistency across and within a sometimes-vast array of difference, contrast and conflict. At the center of The Imagination Warriors, Romanelli holds together such a balance and harmony—between reader and read, character and context, storyteller and reader. Bravo!"
Mark B. Borg Jr., PhD, Clinical/Community Psychologist, Psychoanalyst
Author, Irrelationship and Relationship Sanity

or
Not Currently Available for Direct Purchase