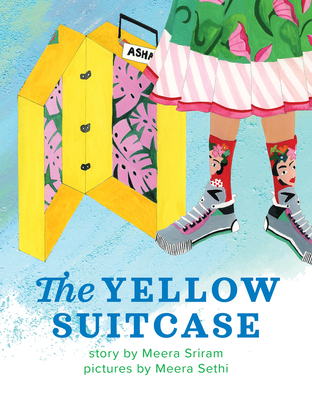 The Yellow Suitcase
Hardcover

* Individual store prices may vary.
Description
Asha travels with her parents from America to India to mourn her grandmother's passing.
When they arrive at her grandmother's house, it's filled with strangers—and no Grandma. Asha's grief and anger are compounded by the empty yellow suitcase usually reserved for gifts to and from Grandma, but when she discovers a gift left behind just for her, Asha realizes that the memory of her grandmother will live on inside her, no matter where she lives.
Praise For The Yellow Suitcase…
★ "In this beautifully bittersweet expression of love and loss, Asha mourns her grandma's death while learning to treasure her life and memory. With two long braids, bright blue glasses, a cheerful collection of knee-high socks, and a grieving heart, Asha travels from California to India to attend the funeral. The warmth of Indian culture is evident all around, from bold colors, patterns, and traditions to the patient understanding and support that the family shows each other as they heal together." —Foreword Reviews, starred review
"This thoughtful picture book provides a rare and necessary perspective, free of tropes and clichés: that of the contemporary bicultural child whose heart is in two places, India and California. The focus on Asha's feelings gives this book powerful bibliotherapeutic value, and the ending brings a gentle and satisfying resolution." —Amina Chaudhri,Booklist
"A thoughtful story that artfully addresses the loss of a grandparent from an immigrant perspective." —Kirkus Reviews
"The Yellow Suitcase fleshes out the universal experience of loss, in an immigrant family, offering both a window into a culture and a mirror to many children. With an Indian-American protagonist, it also offers representation to children in several marginalized communities that don't see themselves in the stories they read. More importantly, it attempts to open up important conversations among all children, caregivers and educators, around death, home, and love." —Pragmatic Mom blog
Penny Candy Books, 9780999658413, 40pp.
Publication Date: March 12, 2019