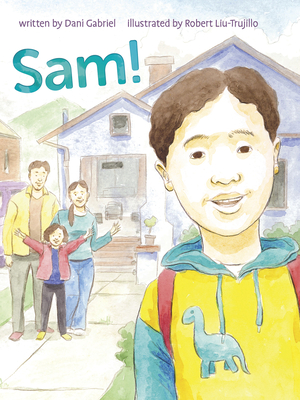 Sam!
Hardcover

* Individual store prices may vary.
Description
Sam loves riding his bike and learning about the American Revolution. He is full of laughter and joy. There's just one problem: Sam's family knows him as a girl named Isabel.
Sam feels a sense of relief when he finally confides in his annoying but caring sister Maggie, and then his parents, even though it takes them a while to feel comfortable with it. But with lots of love and support, Sam and his family learn and grow through Sam's journey to embrace his true self. In the vein of I Am Jazz by Jessica Herthel, Sam! is based on a true story. With a note from the author explaining their family's experience, Sam! is an important addition to a list of books that help children and adults discuss gender identity.
Praise For Sam!…
30 Most Anticipated Books for Fall: "While Gabriel acknowledges that Sam's parents, teachers, and classmates take time to feel comfortable with Sam's identity, the story concentrates on Sam's emotional journey through sadness and anger to, ultimately, happiness that he can be himself rather than on the learning process of those around him...A coming-out story radiating warmth and joy."  —Kirkus Reviews
"...one of only a handful of queer children's books to engage both racial and gender diversity through major characters...I would like to see this in classroom libraries, shared with children who might need it very much. It's a welcome addition to the growing number of books about transgender children published in recent years." —Raise Them Righteous
"[A] warm story of sibling support and family love." —Washington Blade
Penny Candy Books, 9780999658437, 52pp.
Publication Date: September 10, 2019
About the Author
Dani Gabriel is a queer/gender fluid poet and writer, the author of The Woman You Write Poems About (Civil Defense Poetry) and coauthor of Molotov Mouths (Manic D Press). Dani received an MFA from Mills College. They are the Poet Laureate of El Cerrito, CA. Dani lives with their feisty and rambunctious family, which includes an 11-year-old artist named Samson, a fierce 13-year-old feminist named Magdalene, and a partner who is an electrician, an amazing cook, and a phenomenal human. Dani likes gummy candy and works as a grant writer and writing teacher throughout the Bay Area.
Robert Liu-Trujillo is an author/illustrator and publisher from the Bay Area. He has worked on several picture books including Furqan's First Flat Top, which he wrote and illustrated, One of a Kind, Like Me by Laurin Mayeno, which he illustrated, and Thirteen Ways of Looking at a Black Boy by Tony Medina, for which he contributed an illustration. He is a co-founder of The Trust Your Struggle Collective, a contributor to Rad Dad, and the founder of Come Bien Books. He lives in Oakland, CA, with his wife, son, and daughter.