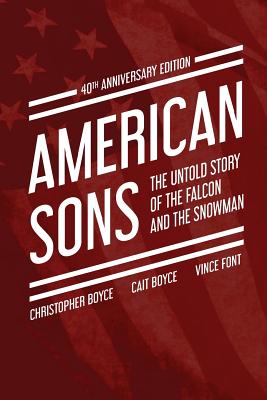 American Sons
The Untold Story of the Falcon and the Snowman (40th Anniversary Edition)
Paperback

* Individual store prices may vary.
Other Editions of This Title:
Hardcover (10/19/2017)
Description
"A compelling narrative of survival and redemption." --Robert Lindsey, author of The Falcon and the Snowman
Forty years before the names Snowden and Manning entered the world's cultural lexicon, Christopher Boyce and Andrew Daulton Lee became America's youngest convicted spies--condemned to federal prison in 1977 for their roles in one of the most highly publicized espionage cases in Cold War history.
Yet the story of their crime, as told in the book and movie The Falcon and the Snowman, was only the beginning.
Locked away in some of the country's most violent and inhospitable prisons, Boyce and Lee survived repeated attempts on their lives and years of solitary confinement before a young and idealistic paralegal, Cait Mills, attempted to put them on the path to freedom. Diagnosed with an aggressive form of cancer, Mills' determination to continue her work while battling the illness ultimately changed all three of their lives.
American Sons: The Untold Story of the Falcon and the Snowman is an incredible true story told by the people who lived it--a narrative of survival against impossible odds, a case study on the indomitability of the human spirit, and a testament to the transformative power of forgiveness.
The 40th anniversary edition of American Sons includes new and expanded content, including numerous articles written by Christopher Boyce for the Minneapolis Star Tribune during the late '80s and early '90s that shed stark light on life behind prison walls.
Glass Spider Publishing, 9780999707036, 362pp.
Publication Date: April 3, 2018