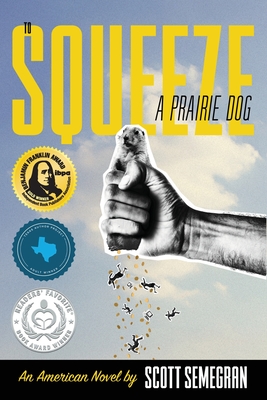 To Squeeze a Prairie Dog
An American Novel
Paperback

* Individual store prices may vary.
Other Editions of This Title:
Digital Audiobook (1/31/2019)
Paperback (12/7/2018)
Hardcover (12/21/2018)
Description
2020 IBPA Benjamin Franklin Award Gold Medal Winner for Humor
2019 Readers' Favorite International Book Award Winner: Silver Medal for Fiction - Humor/Comedy
2019 Texas Author Project Winner: Adult Fiction
This is the story of J. D. Wiswall, a sincere young man from a small town, who joins a state government agency in a data entry department comprised of quirky clerks. Quickly endearing himself to the diverse group in Unit 3, J. D. learns his coworkers have a pact to share the $10,000 prize if they win a cost-savings program for a suggestion that could save the government money, in turn helping them rise above their own personal struggles. A multimillion-dollar cost-savings suggestion is accidentally discovered by J. D.'s supervisor, the goof-off alcoholic Brent Baker. This lucrative discovery catches the attention of crotchety Governor Dwayne Bennett, a media-hungry demagogue, who turns the coworkers of Unit 3 into props for his selfish political reasons. The publicity surrounding the clerks piques the interest of a newspaper reporter, Esther Jean Stinson, whose investigative reporting threatens to reveal the governor's career-ending secret, as well as jeopardizes the prize that the clerks so desperately desire.
Along with J. D. and Brent, the lives of the amiable coworkers in Unit 3 are revealed. There is Rita Jackson, the kind matriarch of her large brood, who spends her time outside of work caring for her five struggling children and thirteen wily grandchildren. Then there's Deborah Martinez, a single mother to a felonious son, who struggles to keep her head above her sinking financial woes. There's also Conchino Gonzalez, a quiescent giant of Mexican and Japanese descent, who street races at night to relieve worries about his ailing grandfather in Japan. Finally, J. D. has dreams bigger than his small hometown can provide, and Brent wants nothing more than to drop the bureaucratic routine to become a rock star with his bar band.
A few blocks away from the agency that houses Unit 3, Governor Bennett, a smarmy politician who whizzes around the Governor's Mansion on a gold-plated wheelchair, parades the unwitting clerks in front of the local media in an attempt to raise his sagging poll numbers. But reporter Esther Jean sees through the governor's bald-faced motives and uncovers secrets not meant to be revealed. Will her revelations keep Unit 3 from receiving their elusive prize?
From award-winning writer Scott Semegran, To Squeeze a Prairie Dog is an American, modern-day tale with working-class folks--part fable, part satire, and part comedy--revealing that camaraderie amongst kind-hearted friends wins the day over evil intentions.
Mutt Press, 9780999717387, 334pp.
Publication Date: February 1, 2019