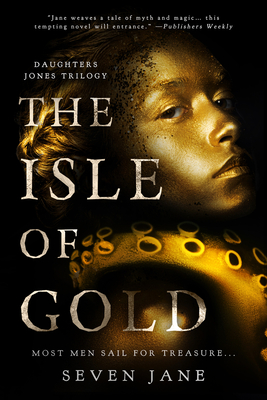 The Isle of Gold (Daughters Jones Trilogy) (Paperback)
Black Spot Books, 9780999742389, 284pp.
Publication Date: October 9, 2018
* Individual store prices may vary.
Description
The year is 1716—the Golden Age of the Pirates. An orphan who sleeps in the dusty kitchens of a quayside brothel, Merrin Smith is desperate to unravel the secrets of her past and find the truth about the events that brought her to Isla Perla as a child. Disguised as a sailor, she joins the crew of the pirate ship Riptide, helmed by the notorious Captain Erik Winters. Tenacious and rumored to be a madman, Winters is known as much for his ruthlessness as for his connection to the enigmatic and beautiful proprietress of The Goodnight Mermaid, Evangeline Dahl, who vanished from the island two summers before.This book is an epic, emotional adventure of two women—one desperate to save herself, and the other determined to be rescued—and the secret which binds them together.
About the Author
Seven Jane is a bestselling author of dark fantasy and speculative fiction. She is a member Women's Fiction Writing Association. She is a contributor to The Nerd Daily and is represented by Gandolfo, Helin & Fountain.​
Praise For The Isle of Gold (Daughters Jones Trilogy)…
"Part fairytale, part fantasy, part romance, Jane's debut is full of colorful characters [and] a plot that will thrill the heart of any lover of magic, legends, and epic adventure."  —Booklist
"Jane weaves a tale of myth and magic . . . This tempting novel will entrance."  —Publishers Weekly
"A delightful, well researched and evocative historical fantasy that succeeds in bringing a fascinating era to life."  —Midwest Book Review