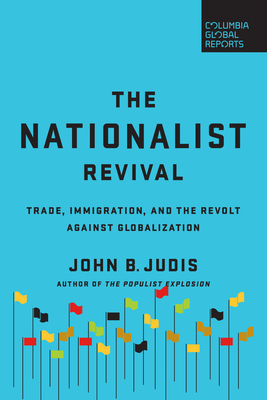 The Nationalist Revival
Trade, Immigration, and the Revolt Against Globalization
Paperback

* Individual store prices may vary.
Other Editions of This Title:
Digital Audiobook (10/8/2018)
Description
From the author of THE POLITICS OF OUR TIME Excellent and compact....He thinks it's important for progressives to understand why so many are drawn to Trump and the far right in Europe. --E.J. Dionne, The Washington Post Trump in America, Johnson in the U.K., anti-EU parties in Italy, Germany, France, the Netherlands, Austria, Poland, and Hungary, and nativist or authoritarian leaders in Turkey, Russia, India, and China--Why has nationalism suddenly returned with a vengeance? Is the world headed back to the fractious conflicts between nations that led to world wars and depression in the early 20th Century? Based on travels in America, Europe, and Asia, veteran political analyst John B. Judis found that almost all people share nationalist sentiments that can be the basis of vibrant democracies as well as repressive dictatorships. Today's outbreak of toxic us vs. them nationalism is an extreme reaction to utopian cosmopolitanism, which advocates open borders, free trade, rampant outsourcing, and has branded nationalist sentiments as bigotry. Can a new international order be created that doesn't dismiss what is constructive about nationalism? As he does for populism in The Populist Explosion and for socialism in The Socialist Awakening, Judis looks at nationalism from its modern origins in the 1800s to today to find answers. John B. Judis does not see a death-match between imperial liberalism on the one hand and nationalism on the other. His book argues that elites have overreached, both in the U.S. and in Europe.... Mr. Judis--who has long supported progressive and pro-labor economic policies--calls for a synthesis between liberalism and nationalism. --The Wall Street Journal
Columbia Global Reports, 9780999745403, 157pp.
Publication Date: October 9, 2018