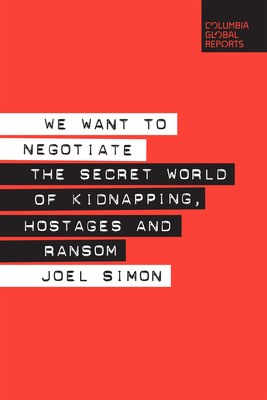 We Want to Negotiate
The Secret World of Kidnapping, Hostages and Ransom
Paperback

* Individual store prices may vary.
Other Editions of This Title:
Digital Audiobook (1/21/2019)
Description
A wise and thorough investigation. --Lawrence Wright, author of The Looming Tower and The Terror Years Starting in late 2012, Westerners working in Syria--journalists and aid workers--began disappearing without a trace. A year later the world learned they had been taken hostage by the Islamic State. Throughout 2014, all the Europeans came home, first the Spanish, then the French, then an Italian, a German, and a Dane. In August 2014, the Islamic State began executing the Americans--including journalists James Foley and Steven Sotloff, followed by the British hostages. Joel Simon, who in nearly two decades at the Committee to Protect Journalists has worked on dozens of hostages cases, delves into the heated hostage policy debate. The Europeans paid millions of dollars to a terrorist group to free their hostages. The US and the UK refused to do so, arguing that any ransom would be used to fuel terrorism and would make the crime more attractive, increasing the risk to their citizens. We Want to Negotiate is an exploration of the ethical, legal, and strategic considerations of a bedeviling question: Should governments pay ransom to terrorists?
Columbia Global Reports, 9780999745427, 189pp.
Publication Date: January 22, 2019