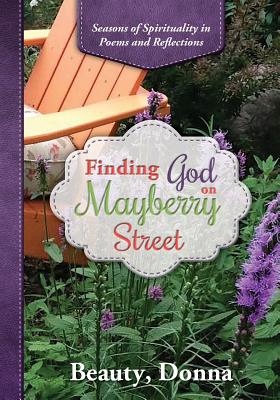 Finding God on Mayberry Street
Seasons of Spirituality in Poems and Reflections
Paperback

* Individual store prices may vary.
Other Editions of This Title:
Paperback (4/24/2018)
Description
Whether walking on Mayberry Street with her dogs or walking a New York city block to reach ordination, Donna shares intimately the God who is buried deep and beloved within her.
Hearing God whisper on an airplane or bowing to the clerk at the grocery store, her stories blend her passion for beauty, nature, wisdom and the sacred texts of many faiths, many paths, yet one great Love.
Reverend Donna is an Interfaith Minister serving individuals and families who seek spiritual growth and guidance in all areas of their lives. She seeks to have her words reach far and wide, to lift up those who are in pain, and inspire those who wish to find their purpose. Rev. Donna lives in Nebraska. She finds joy tending her vast gardens, writing, and playing with her grandchildren.
Reverend Donna Ministries, 9780999748817, 106pp.
Publication Date: December 28, 2017