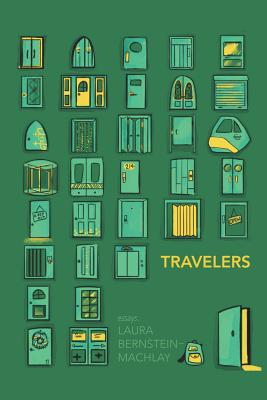 Travelers
Paperback

* Individual store prices may vary.
Description
Travelers, Laura Bernstein-Machlay's debut collection of essays, maps the author's journey as she makes sense of her recovering city, the generations that preceded her, and her own definition of wife, mother, and home. These intimate, humorous and heartfelt essays offer an honest, and discerning look at the moments which both challenge and redeem us; the shaping of our lineage; and the profound necessity of hope.
Deftly observed and thoughtfully crafted, Bernstein-Machlay's lyrical prose brings to life Detroit's survivor spirit and the indefatigable nature of family. This collection discovers the inherent grace and defining necessity of place, heritage and the search for our own footing within the vast world we inhabit. Travelers examines the intersection of the connections we form and those we inherit and how, with distance and trust, and a little luck, we might find more than just our way home.
Praise For Travelers…
"Laura Bernstein-Machlay crafts exquisite true tales of what it means to understand a city, a family, and herself. This collection of essays is a love story I will turn to again and again." - Jessica Handler, author of Invisible Sisters: A Memoir

"Laura Bernstein-Machlay takes readers on a journey that is both illuminating and authentic in Travelers, her engaging first collection of essays. From her struggling yet resilient hometown of Detroit, to the small pubs and ferries of Europe, to the kitchen of her grandparents' home, the author closely examines the history of a city intertwined with the history of family. Tender and humorous yet unflinching and honest, these exquisite essays explore the intricacies that bind family, locale and one's place in the world." - Ksenia Rychtycka, author of Crossing The Border

"A thoroughly delightful essay collection filled with playful asides about everything from life in Detroit to 80s hair to hitchhiking in Ireland. A balance of funny and poignant, but always insightful ruminations on life, love and you name it. A very fun trip!" - Kelly Fordon, author of Garden for the Blind

"What a pleasure to travel along with Laura Bernstein-Machlay in these smart and funny essays. Whether she's looking near or far, Bernstein-Machlay illuminates our deepest desires with compassion and humor. I'd go anywhere with her!" - Rachel Hall, author of Heirlooms

"In this extraordinary collection, Laura Bernstein-Machlay not only takes us along on her journey, but she proves how a woman, in the course of an examined life, is many different travelers, a series of traveling and shifting selves. The writer brings such honesty, humor, and poetry to each of her places, experience, and incarnations that, as our tour guide through the changing landscape of her life—granddaughter, daughter, mother, punk-rocker, urban dweller, self—she leaves the reader with a renewed sense of the wonder and strangeness of a life, what a long strange trip it's been. Bernstein-Machlay makes the world new, writing as beautifully about 'the fields in the disappeared neighborhoods where homes used to stand, where in spring the lilacs grow wild as hope…' as the 'illegally dumped tires which will catch fire come summer' around which those lilacs grow. These essays are both life-affirming and scary, and each one has been crafted by the writer's intelligence, affection, empathy, wit, with the skills of a serious artist, into an unforgettable whole." - Laura Kasischke, author of White Bird in a Blizzard

"The essays in Travelers…transmit Laura Bernstein-Machlay's prowess as a wordsmith talented in depicting different kinds of life journeys…these essays reflect journeys through life, changing times, and changing places; capturing the essence of movement and transformation in the process of uprooting and facing homelessness. Those looking for powerful literary pieces which take the theme of travel and elevate it to physical and psychological moments in time forever captured by the written word will relish the delicate progression of Travelers as it carries readers on a vivid journey through life's potent moments of revelation and self-realization." - D. Donovan, Senior Reviewer, Midwest Book Review
Sonder Press, 9780999750100, 178pp.
Publication Date: May 1, 2018
About the Author
Laura Bernstein-Machlay was born in Detroit, MI. After stints in Ann Arbor, Philadelphia, Chicago and Seattle, not to mention several months-long odysseys abroad, she returned to her hometown where she currently lives with her husband and daughter. An award-winning author of poetry and creative nonfiction, Laura's poems and essays have appeared in numerous national and international magazines and literary journals.