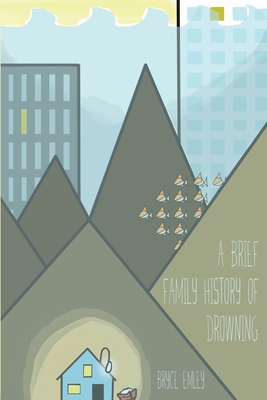 A Brief Family History of Drowning
Paperback

* Individual store prices may vary.
Description
Winner of the 2018 Sonder Press Chapbook Competition, Bryce Emley's A Brief Family History of Drowning, is a haunting, delicate ode to family, gracefully charting the weathered wash of a shared past salted with the sting of loss and longing. From a father's stroke, to the death of a mother and a brother's incarceration, this collection of works, some essays, others less easily defined, chronicles the vast and enduring weight of grief, and the indelible tether of blood shared. Emley's prose is exquisite, precise and masterfully crafted. Water permeates these pages, language ebbs and flows, swells, engulfs. A Brief Family History of Drowning renders in brilliant relief the weighted voyage of a son searching for a path through the rising swells of the present and desperate undertow of the past.
Praise For A Brief Family History of Drowning…
"Bryce Emley's A Brief Family History of Drowning gives a sharp, vivid meditation on grief. And it does so with the beauty necessary to balance such extraordinary loss—a father's ability to think and speak fully after a stroke, a brother's freedom after being imprisoned, a mother's life. With lyrical language, Emley renders each moment with urgency and grace." - Toni Jensen, author of Carry
Sonder Press, 9780999750148, 66pp.
Publication Date: August 27, 2019
About the Author
Bryce Emley was born and raised in Florida and earned an MFA in Poetry from North Carolina State University. His poems, essays, and fiction appear in The Atlantic, Boston Review, Prairie Schooner, Narrative, Best American Experimental Writing, and elsewhere, and he is also the author of the poetry chapbook We Might Never Be This Beautiful Again (Seven Kitchens Press, forthcoming) and the fiction chapbook Smoke and Glass (Folded Word, 2018). A recipient of residencies and scholarships from the Edward F. Albee Foundation, The Glen Workshop, Wesleyan Summer Writers Conference, and the University of Central Florida, Bryce is Poetry Editor of Raleigh Review and works in marketing at the University of New Mexico Press. He lives in Albuquerque, NM with his wife. Read more at bryceemley.com.