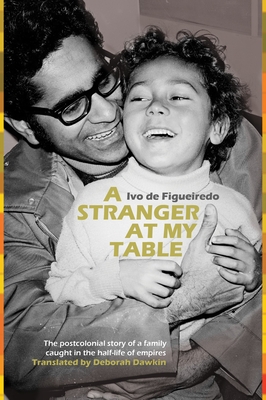 A Stranger at My Table
The Postcolonial Story of a Family Caught in the Half-Life of Empires
Paperback

* Individual store prices may vary.
Description
A touching, contemplative chronicle of loss and self-discovery.
- Publishers Weekly From the acclaimed biographer of Norway's most treasured cultural icons, Henrik Ibsen and Edvard Munch, comes a story of a migrant family in search of roots and for each other. Ivo de Figueiredo's lyrical and imagistic memoir navigates a difficult search for the origins of his estranged father, which opens a door to a family history spanning four continents, five centuries and the rise and fall of two empires. At the age of 45, Figueiredo traces his father's family in the diaspora. Having emigrated from the Portuguese colony of Goa on the west coast of India to British East Africa, and later to the West, his father's ancestors were Indians with European ways and values--trusted servants of the imperial powers. But in postcolonial times they became homeless, redundant, caught between the age of empires and the age of nations. With lush descriptions and forthcoming honesty, A Stranger at My Table tells the story of a family unwittingly tied to two European empires, who paid the price for their downfall, weathering revolution and many forms of prejudice. The author's trove of often-strange photographs, letters and recordings as well as his eye for the smallest details and double-meanings lead the reader down a mysterious path as his search for his family's heritage results in a surprising reunification with his father and reconciliation with his past. Praise for Henrik Ibsen. The Man and the Mask, 2019 Ivo de Figueiredo's work marks the high point in the long line of biographies of Ibsen that have been published since 1888.
- Dagbladet This Ibsen-biography shares the quality of its subject: It is unsurpassable. ...] Anybody with the slightest interest in literature should indulge in a meeting with the most important Norwegian contribution to world literature: The works of Henrik Ibsen. Outside of the plays themselves, there is no better place to start than Ivo de Figueiredo's two books, "The Man" (2006) and "The Mask" (2007).
- Klassekampen A jubilant outcry ... it is this literary composition that makes Ivo de Figueiredo revise our understanding of Ibsen.
- Dag Solstad Praise for Sleeping Sinner, The K ber Case. A true story of spiritualism, love and a possible murder, 2010 The book is so well written that I almost forgot that it was a book. It resembles a film or a court case. Figueiredo's trick is to focus on the unsolved parts of the case ...] Figueiredo deserves gratitude and admiration.
- Aftenposten Wonderfully fascinating reading. Exciting like a crime novel, but from real life.
- Varden Electrifyingly well written. The historian and writer, Ivo de Figueiredo, stylistically just gets better and better ...] It is like a thriller you cannot put down.
- VG+
Doppelhouse Press, 9780999754474, 336pp.
Publication Date: May 28, 2019
About the Author
Ivo de Figueiredo (b. 1966) is the critically-acclaimed biographer of Norway's treasured cultural icon, Henrik Ibsen (forthcoming in English with Yale University Press, 2019), and his next book is the official biography of Edvard Munch, commissioned by the Munch Foundation. In 2002, he was awarded the Brage Prize for a biography of Johan Bernhard Hjort, the co-founder of the Norwegian Fascist Party who later became a resistance fighter and human rights lawyer. A Stranger at My Table received one of the highest non-fiction honors in Norway, the 2016 Language Prize and was nominated for the Brage Prize that same year. Figueiredo works as a critic at Morgenbladet and Aftenposten and is a member of the Norwegian Academy.