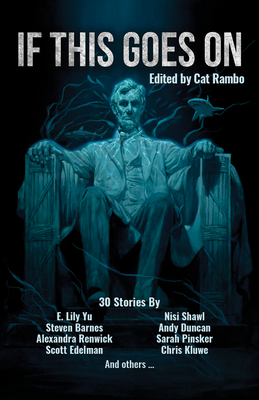 If This Goes on
The Science Fiction Future of Today's Politics
Paperback

* Individual store prices may vary.
Description
A bold new anthology born of rage and sorrow and hope. 30 writers look at what today's politics and policies will do to shape our world a generation from now.
Some of today's most visionary writers of science fiction project us forward to the world of the future; a world shaped by nationalism, isolationism, and a growing divide between the haves and have nots. This anthology sits at the intersection of politics, speculative fiction, and American identity. The choices we make today; the policies of our governments and the values that we, as people, embrace are going to shape our world for decades to come. Or break it.
Edited by Cat Rambo, the current President of the Science Fiction and Fantasy Writers of America, the stories of
If This Goes On
invite you to worlds very like this one-- but just a little different. Including:
"Green Glass: A Love Story" by Lily Yu, Hugo and World Fantasy Award nominee, and winner of the 2012 John W. Campbell Award for Best New Writer, filters the future of now through a wholly relatable lens: relationships and marriage.
Hugo-winning editor Scott Edelman's "The Stranded Time Traveler Embraces the Inevitable" expertly employs an age-old science fiction convention to tell a deeply human tale of love, loss, and desperate hope.
Streaming our everyday lives has become commonplace, but in "Making Happy" Zandra Renwick examines a very uncommon consequence of broadcasting your every experience.
Former Minnesota Viking and noted equal rights advocate Chris Kluwe's "The Machine" deals with one of the most important and hotly contested questions of the day: what truly defines citizenship and American identity?
Nebula winner Sarah Pinsker's "That Our Flag Was Still There" uses possibly the most powerful symbol in American iconography to create a frightening and darkly illuminating vision of freedom of speech.
NAACP Image Award winner for Outstanding Literary Work Steven Barnes offers up the consequences of integrating technology and surveillance into our daily lives with his detective story "The Last Adventure of Jack Laff: The Dayveil Gambit"
And two dozen more of today's best authors offer If This Goes On, the science fiction future of today.

Parvus Press LLC, 9780999784211, 304pp.
Publication Date: March 5, 2019
About the Author
Cat Rambo is the author of more than 200 works of original fiction, an ardent feminist, and a certified master gardener. She has been nominated for the Nebula, Endeavour, and World Fantasy Awards for her work as both an author and an editor. Her latest novel, Hearts of Tabat, is published by WordFire Press. Learn more about Cat at kittywumpus.net. Sarah Pinsker is the author of the novelette Our Lady of the Open Road, winner of the Nebula Award in 2016. Her novelette In Joy, Knowing the Abyss Behind, was the Sturgeon Award winner in 2014 and a Nebula finalist for 2013. Her fiction has been published in magazines including Asimov's, Strange Horizons, Fantasy & Science Fiction, Lightspeed, Daily Science Fiction, Fireside, and Uncanny and in anthologies including Long Hidden, Fierce Family, Accessing the Future, and numerous year's bests. Her stories have been translated into Chinese, Spanish, French, Italian, among other languages. Sarah's first collection, Sooner or Later Everything Falls Into the Sea: Stories will be published by Small Beer Press in 2019. Zandra Camille Renwick's fiction has been translated into ten languages and adapted to stage and audio. Her stories have appeared under various mashups of her name in Asimov's, Alfred Hitchcock's and Ellery Queen's Mystery Magazines, The Year's Best Hardcore Horror, and Machine of Death. Her award-nominated collection Push of the Sky (written as Camille Alexa) got a starred review in Publishers Weekly and was a reading selection of the Powell's Books Science Fiction Book Club. More at AlexCRenwick.com. Chris Kluwe is a former NFL player, a tabletop game designer, once wrestled a bear for a pot of gold, and lies occasionally in his bios. You can find him being Not Mad Online at @ChrisWarcraft (until he's inevitably banned for screaming at Nazis). E. Lily Yu received the Artist Trust LaSalle Storyteller Award in 2017 and the John W. Campbell Award for Best New Writer in 2012. Her stories have appeared in venues from McSweeney's to Uncanny and in seven best-of-the-year anthologies, and have been finalists for the Hugo, Nebula, and World Fantasy Awards. Nisi Shawl's recent speculative short stories include "Slippernet" in the Slate Magazine's Trump Story Project, and "Evens" in The Obama Inheritance, from Three Rooms Press. Her debut novel Everfair was a 2017 Nebula finalist, and her story collection Filter House co-won the James Tiptree, Jr. Award in 2009. Her middle-grade fantasy Speculation will be published in 2019 by Lee and Low. She lives in vividly cerulean Seattle, and loves having health insurance. Scott Edelman has published more than 90 short stories in magazines such as Analog, PostScripts, The Twilight Zone, and Dark Discoveries, and in anthologies such as Why New Yorkers Smoke, The Solaris Book of New Science Fiction: Volume Three, Crossroads: Southern Tales of the Fantastic, Once Upon a Galaxy, Moon Shots, Mars Probes, and Forbidden Planets. A collection of his horror fiction, These Words Are Haunted, came out in hardcover from Wildside Books in 2001, and was re-released in paperback in 2015 by Fantastic Books. His most recent collection, Liars, Fakers, and the Dead Who Eat Them, was published in 2017. He has been a Bram Stoker Award finalist eight times, in the categories of Short Story and Long Fiction, a finalist for the Shirley Jackson Memorial Award, a Lambda Award Nominee, and has also been a four-time Hugo Award finalist for Best Editor.New York Times bestselling author Steven Barnes is considered one of the pioneers of Afrofuturism, with over three million words, thirty novels, and episodes of OUTER LIMITS, TWILIGHT ZONE, ANDROMEDA, and STARGATE SG-1 to his credit. Winner of the NAACP Image award as well as the Endeavor and numerous others, nominated for Hugo and Nebula awards, his Emmy-winning A Stitch In Time episode of THE OUTER LIMITS is widely considered the best episode of the 80's reboot. With his wife, multiple award-winning novelist and university professor Tananarive Due, he has created the "Afrofuturism: Dreams to Banish Nightmares" online course, as well as THE SUNKEN PLACE black horror course. You can learn more at: www.afrofuturismwebinar.com Nick Mamatas is the author of several novels, including I Am Providence and the forthcoming Hexen Sabbath. His short fiction has appeared in Best American Mystery Stories, Year's Best Science Fiction and Fantasy, Tor.com, and many other venues. He is also an anthologist; his books include the Locus Award nominee Hanzai Japan (with Masumi Washington) and Mixed Up (with Molly Tanzer). Andy Duncan's stories have appeared in Asimov's, Clarkesworld, Conjunctions, The Magazine of Fantasy & Science Fiction, Lightspeed, Tor.com and many anthologies, including multiple year's-best volumes. His honors include a Nebula Award, a Theodore Sturgeon Memorial Award and three World Fantasy Awards, the most recent for "Wakulla Springs," co-written with Ellen Klages. His third collection, An Agent of Utopia: New and Selected Stories, will be published by Small Beer Press. A native of Batesburg, South Carolina, and a graduate of Clarion West 1994, he has an M.F.A. from the University of Alabama and teaches writing at Frostburg State University in Maryland.
or
Not Currently Available for Direct Purchase