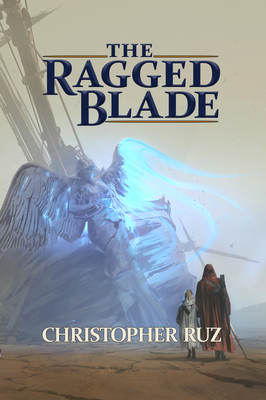 The Ragged Blade
Paperback

* Individual store prices may vary.
Description
As a young mercenary, Richard followed a mysterious Magician on a quest to steal a treasure from a demon and overthrow a king. The two men started their journey as strangers, became lovers along the way, and ended as master and loyal soldier.
Twenty years later, that kingdom is steadily falling into ruin and Richard has realized that time and power have twisted the Magician into more monster than man - children disappear nightly into his dungeons and the only things that leave are terrible creatures crafted in the shadows.
To save his own daughter, Richard flees into the desert wastes where magic boils beneath the sand and monsters walk the dunes in the shape of men. He will return to the burning heart of the desert and restore the demon's treasure, or die in the trying.
What Richard doesn't know is that Ana is the key to the Magician's plans and he and his favorite monster will lay waste to the world to get her back.
Parvus Press LLC, 9780999784297, 352pp.
Publication Date: June 4, 2019
About the Author
Christopher Ruz tells lies for money. Teacher, designer, and one-time stuntman (don't ask), Christopher Ruz is a rabid fan of fantasy, science fiction, body horror and crime thrillers. Born in Hong Kong to well-travelled parents, Ruz was fortunate enough to live in South Africa and Vienna before returning to live and work in Australia. His love of dark fiction began when and a worn copy of Pet Semetary caught his eye at a local fleamarket. He bought it with his pocket money and hid it under his bed so his parents wouldn't see. He was eight years old, and has been unbalanced ever since. Ruz can also do twelve chinups. Neat! His best known work is his ongoing horror series Rust. He has sold stories to Andromeda Spaceways and Apollo's Daughters, has beaten the gruelling Immerse or Die challenge twice, and was a finalist in the 2017 Aurealis Awards. When not writing, Ruz teaches art and design at a west-Melbourne high school and works at boardgame conventions across Australia.