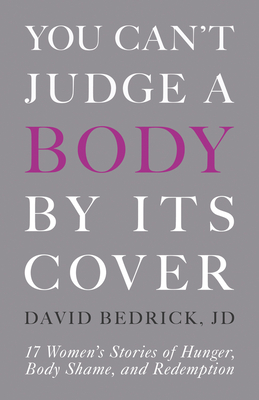 You Can't Judge a Body by Its Cover
17 Women's Stories of Hunger, Body Shame, and Redemption
Paperback

* Individual store prices may vary.
Description
What if your hunger—that force that beckons you to the ice cream aisle, and guides your hands to take seconds when you didn't even feel like having firsts—was the misunderstood sage of your body, rattling its cage inside the fortress of your soul? What if your resistance to dieting were actually a message of self-love? What if your body size and shape also held intelligence and protection? In You Can't Judge a Body by Its Cover, you'll read seventeen stories of women who opened the doors to their souls in therapeutic sessions with David Bedrick: stories of shame and self-love, fear and hope, being small and being big. These are the inside stories of the transformation, from bodies impacted by sexism and racism, rape and harsh criticism, and the deepest hungers for an authentic life. You'll recognize your own pains and abuses, resistance to weight loss, your hungers…and power. Get ready to be inspired. Get ready to see everything differently. Get ready to meet the life-changing secrets held within your body's rebellion to living in a society that fetishizes thinness and shames authenticity.
Praise For You Can't Judge a Body by Its Cover: 17 Women's Stories of Hunger, Body Shame, and Redemption…
"Bedrick celebrates 'the deep wisdom held in... hearts, minds, and bodies' of women in this powerful collection of profiles. This emotional, illuminating discussion will appeal to fans of Brene Brown." —Publishers Weekly

"With deep compassion, precise awareness, and great skills, Bedrick elicits what is truly behind women's 'failure' around dieting." —Ayako "Aya" Fujisaki PhD, LPC

"Bedrick's understanding of the impact of sexism, female socialization, and internalized oppression on the emotional and physical health and wellness of women is palpable on every page and woven through every story." —Jan Dworkin, PhD, psychologist and author of Make Love Better: How to Own Your Story, Connect with Your Partner, and Deepen Your Relationship Practice

"I had not considered that the way health professionals approach weight loss is incomplete and potentially harmful if they do not dig for understanding of why the person is where they are. Such an important understanding!" —Dr. Alauna Curry, Trauma Psychiatrist, creator of Empathy Skills PracticeTM for Traumatized Humans and founder of the Dr. Alauna Trauma Recovery Institute

"The intersectionality of racism and sexism is a complex and multi-faceted phenomenon that exacerbates the weight struggle among Black women. David Bedrick gets it." —Mary Canty Merrill, PhD, author of Why Black Lives Matter (Too)

"Chronic shame and self-disgust is a nightmare. This book's perspective helps me to wake up from that nightmare into the new, gentler, deeply compassionate, honoring world Bedrick is cultivating. I wish for everyone to have a taste of this world." —Esther Dee, U.S.

"I am one and all of these women in varying degrees and I, through reading this important work, have embraced Bedrick's witness to my and other women's struggle for the freedom to feel validated and live authentically." —Wanda Garcia, M.Ed., U.S.

"The author's compassionate gaze shines through every page, as this book takes me beyond what is deemed the appropriate health-and-body-weight conversation to where the deepest desires and self-knowing inside our bodies is wanting us truly to go: into the long-ignored, inconvenient, non-commodifiable but ultimately transcendent conversation." —Jill Hileman, U.S.

 "I never saw an overweight woman in any of these stories. I saw again and again a wonderful and beautiful soul. In every single story, these shared insights that touched me, made me reflect. I felt a lot of sympathy (tears flowed!) and happiness for these women." —Gertrud Kessler, psychotherapist, Switzerland

 "What ties all these stories together is the quiet violence perpetuated on our bodies and psyches due to cultural bias and conditioning, however insidious, and the visible and invisible marks these leave on us. You will be left with a feeling of connectedness—of 'I am not alone in this'—and an overwhelming sense of love." —Ernestine Kontogianni, South Africa 

"Bedrick offers empathic interventions and realistic options for the empowerment of individuals seeing themselves more holistically by recognizing political, cultural, and social factors that affect human lives across diverse groups." —Fannie LeFlore, Social Entrepreneur, Activist, Psychotherapist and Writer/Editor
Belly Song Press, 9780999809488, 292pp.
Publication Date: December 1, 2020
About the Author
David Bedrick, J.D., Dipl. PW is an attorney, educator, and process worker. He founded the Santa Fe Institute for Shame-Based Studies where he teaches and works with individuals from around the world. He is the author of Talking Back to Dr. Phil: Alternatives to Mainstream Psychology and Revisioning Activism: Bringing Depth, Dialogue, and Diversity to Individual and Social Change.