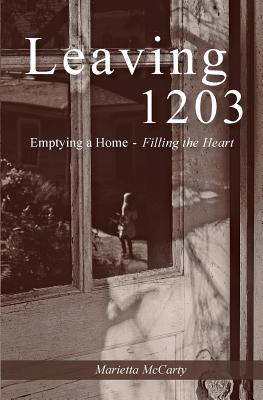 Leaving 1203 (Paperback)
Emptying a Home, Filling the Heart
Marietta McCarty, 9780999815106, 160pp.
Publication Date: October 9, 2018
* Individual store prices may vary.
Description
Bereaved following her mother's death, McCarty faces the daunting task of emptying her beloved family home. How might she find a way through the inevitable emotional turmoil and the accumulation of more than five decades in the house at 1203?
Told with McCarty's characteristic wisdom, marvel, exuberance, and good will, LEAVING 1203 is about navigating that way through. The author draws on all available resources--friends and strangers, food and laughter, life lessons learned in the very house she now empties, and, not least, her newly-inherited West Highland terrier, Billy. McCarty simultaneously learns and deftly teaches the fine arts of remembering, letting go, and holding on to what matters most. She not only finds the way through, she shows the way.
An engaging raconteur, McCarty invites you in and welcomes you home. She exposes her generous heart and pulls you close. This wondrous volume is a gift to its readers--a hug, long held.
While home emptiers might find special comfort and resonance in LEAVING 1203, no home-emptying experience--actual or anticipated--is necessary for the reader's enjoyment and appreciation of this book.