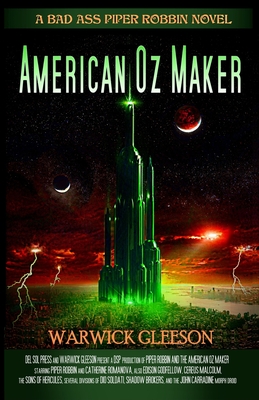 Piper Robbin and the American Oz Maker
Paperback

* Individual store prices may vary.
Description
"Jaded sci-fi and fantasy readers should flock to this fearlessly inventive narrative... " - Kirkus Reviews AN ADULT FANTASY FOR THE DARK CHILD IN US ALL May the best evil win. It is the end of history, the end of sanity, and for those who survive, the end of life as they know it. The Age of Oz in America is forged into a utopia, but as the Witch Queen seeks to establish her own new order of genocide, the two most powerful women on Earth, Piper Robbin and Czarina Romanova, must put aside their deadly rivalry and resist the onslaught by all means necessary, even if it means beloved friends must perish. World War Oz is on. __________ Piper Robbin sets a whole new standard of WTF in fantasy. Imagine the best sex scene you've ever read in American or British SFF, then inject hyperbolic steroids with a dash of anti-gravity, methane ocean, and a few million star sprinkles. Upon this 80th anniversary of the Wizard of Oz, Piper Robbin and the American Oz Maker officially joins the "heretical apocrypha of Oz." In other words, a work of imaginative fiction borrowing heavily from Oz, but not subject to the confines and strictures of Oz canon. This science-fantasy by Warwick Gleeson features three of the most protean and uniquely flawed heroes ever forged in 21st century speculative fiction, and too, a villain that makes Voldemort look like Tinkerbell. As a boldly original adult fantasy, it takes one of world's favorite tales and transforms it into a dark and epic landscape few can escape much less understand.
del Sol Press, 9780999842546, 318pp.
Publication Date: April 10, 2019
or
Not Currently Available for Direct Purchase