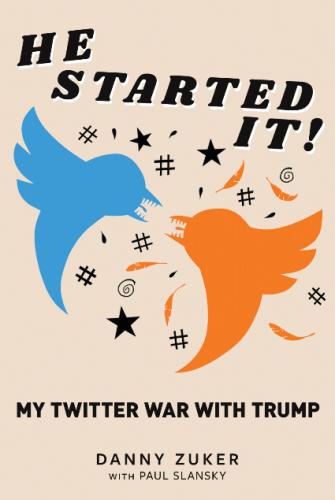 He Started It!
My Twitter War with Trump
Paperback

* Individual store prices may vary.
Description
In 2013, Donald Trump got involved in his first sustained Twitter War. Unfortunately for Trump, in this endeavor as in so very many others, he was not up to the task. If you're someone with no discernible sense of humor - someone for whom ridicule is like Kryptonite - a professional comedy writer would not be an ideal opponent with whom to engage. He Started It : My Twitter War with Trump is the complete record (with commentary) of Donald Trump's hilarious three-month-long delusion that he was outwitting Danny Zuker (Modern Family, Just Shoot Me, Roseanne). Introduction by Paul Slansky.
A PERCENTAGE OF EACH SALE GOES TO PLANNED PARENTHOOD, RAICES (the Refugee and Immigrant Center for Education and Legal Services) and the WORLD WILDLIFE FUND.
Praise For He Started It!: My Twitter War with Trump…
"As a co-discoverer of how a short-fi ngered vulgarian rises to the bait when you repeatedly call him a short-fi ngered vulgarian in print, I was delighted to see a version of Spy's experiment replicated 25 years later on social media. Well-played, Danny Zuker!" — Kurt Andersen, author of Fantasyland

"He Started It! preserves this lopsided battle of wits! Spellbinding Rope-A-Dope Tweets—kinda like watching Don Rickles debate Shemp Howard, or a really good Bugs Bunny vs. Elmer Fudd cartoon. Fun! Highly Recommended." — Mark Hamill, actor

"Just when you thought one man's tweets might destroy us, Danny Zuker's brilliant collection is here to save the day ... and possibly the country." — Sandra Bernhard, comedian

"Those who scoff ed at Kellyanne Conway's recollection of the Bowling Green Massacre will appreciate Danny Zuker's hilarious Twitter beatdown of our current president. Remember that scene in Monty Python and the Holy Grail where the armless and legless Black Knight keeps intoning, ''Tis but a scratch' and 'Just a fl esh wound'? That." — Harlan Coben, author of Tell No One and Don't Let Go
Griffith Moon Publishing, 9780999845288, 94pp.
Publication Date: September 10, 2018
About the Author
Danny Zuker
When not trolling the leader of the free world, Danny Zuker (@DannyZuker) works as a television comedy writer/producer. He's spent the last nine years as one of the executive producers of Modern Family, and has worked on many shows including Evening Shade, Roseanne, Just Shoot Me, and so many flops.

Paul Slansky
Paul Slansky (@slansky) is the author of The Clothes Have No Emperor: A Chronicle of the American '80s and five other books that savagely mock the idiots, hypocrites and demagogues who masquerade as our "leaders." In the summer of 2016, he created (and continues to curate) www.trumpelthinskin.com, a website dedicated to disrespecting Donald Trump.