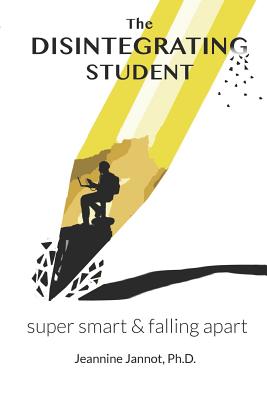 The Disintegrating Student
Super Smart & Falling Apart
Paperback

* Individual store prices may vary.
Description
"But you've never had trouble with school-what happened?"

In The Disintegrating Student, Jeannine Jannot, Ph.D. explores an increasingly common phenomenon: bright, successful students who suddenly hit a wall, with falling grades, scattered work, and emotional upheaval. In this engaging and easy-to-read book, Dr. Jannot explains why your super-smart student is falling apart, and what you can do about it.

Drawing on her decades of experience as a school psychologist, mother of three, college psychology instructor, and student coach, Dr. Jannot covers the developmental and cultural influences that cause today's students to feel overwhelmed and stressed out, how this affects them academically and emotionally, and why they often don't ask for help.

Dr. Jannot identifies the skill deficits and counterproductive behaviors common to disintegrating students, and provides 77 Tips to be Productive and Well that will help struggling students get back on track to achieving their full potential. The Disintegrating Student teaches you how to help your child embrace what's going right, address what's going wrong, and develop the skills they need for success in school, and in life.

Praise from readers of The Disintegrating Student:

"Bravo Dr. Jannot has written an incredible resource for families who are truly struggling to navigate raising children in our fast paced, highly demanding modern world. The Disintegrating Student provides practical tools and easy to understand tips guiding parents in how to reconnect with and develop essential executive functioning skills in their children. I am excited to be able to reference this to families who I see struggling everyday with these issues in my private practice." Lisa Reid, LCSW, Essential Connections

"If you're looking for real understanding into why your student might be struggling, that answer likely won't be found in a list of tips or short blog post, but it can be found in The Disintegrating Student Dr. Jannot manages to succinctly explain the pressures of societal expectations, teenage brain development, and the psychology of parenting styles and motivation in a way that helps create a full picture of what may be happening for your child, how to help overcome those obstacles, and maybe even adjust your own expectations without feeling like you're giving in. 'Successful' students are more than just good grades, and this book is a literal primer for creating a strong foundation for success." Krista Smith, Organizational Psychologist and mother of three (16, 14, and 10)

"The Disintegrating Student will quickly become an essential guide for every student and parent working to survive and thrive in the current education environment." Carolyn Lambert, Parent Coach, Nathan's Waypoint

Your purchase of The Disintegrating Student will benefit students and teachers with 10% of net proceeds supporting DonorsChoose.org.

Independently Published, 9781070652344, 200pp.
Publication Date: July 1, 2019