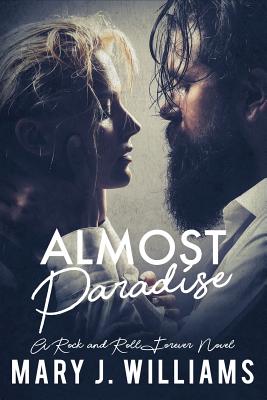 Almost Paradise
Paperback

* Individual store prices may vary.
Description
One year. One rule.NO SEX.Nobody said anything about falling in love.
Music was Jax's life. He knew what he wanted-fame, fortune-and nothing would stand in his way. Then, he met Skye, and everything changed. Suddenly, she became part of his dreams. Too bad her family had other ideas.
Skye's ambitions reached beyond her small hometown. But teaching was a practical profession, acting wasn't. When she met confident, heart melting Jax, she started to believe dreams might really come true. He offered her a way out. One year on the road with his ba. After that? The world.
But Skye was devoted to her family. Her father used guilt as a weapon, one she was powerless to defeat. He agreed to let her go on tour under one condition. A relationship with Jaxon Cross was off limits.
Jax wanted Skye. Not having her body didn't stop his love from growing stronger every day. But his feelings make him vulnerable. When he believes she betrayed him, their world implodes.

Secrets and lies tore them apart. Can an out of the blue second chance heal two broken hearts? Falling into bed is easy. Falling in love again could change everything.
A standalone rock star romance. Grab your copy today.
Coming Soon
Almost Blue (Rock & Roll Forever Book Two)
Almost Everything (Rock & Roll Forever Book Three)
Almost Home (Rock & Roll Forever Book Four)
Available now
The entire Hart of Rock & Roll series
Flowers on the Wall (Hart of Rock & Roll Book One)
Flowers and Cages (Hart of Rock & Roll Book Two)
Flowers are Red (Hart of Rock & Roll Book Three)
Flowers for Zoe (Hart of Rock & Roll Book Four)
Flowers in Winter (Hart of Rock & Roll Book Five)
Independently Published, 9781070825960, 332pp.
Publication Date: May 29, 2019